Soul Gym Onboarding
Course Platform Orientation
Warm Welcome to Soul Gym 💛
Fill out your profile 🤗 We want to learn about you!
➡️ Schedule + Zoom Link for Official Events for Soul Gym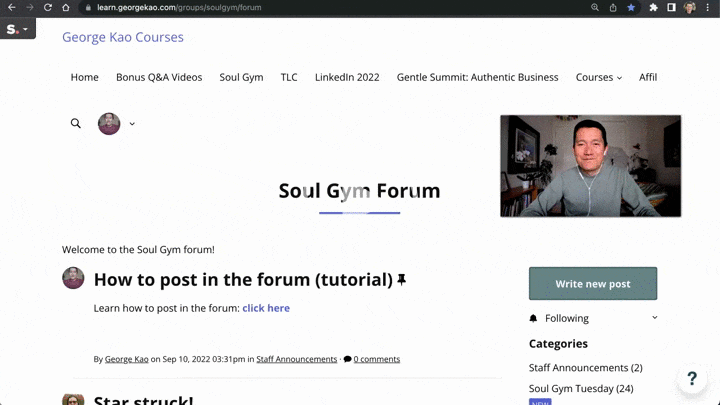 When you post in Soul Gym, be sure to Tag/Mention your helper 😇
To receive fewer emails: only follow Staff
Want George Kao's feedback on your content? Come to monthly Q&A....
🤔 Can you promote your products/services in Soul Gym? Not directly...
Any Questions about the Soul Gym Program?
iCal / Apple Calendar -- how to subscribe to Soul Gym calendar
👩🏾‍🤝‍👩🏻 Soul Gym Member Directory 👨🏽‍🤝‍👨🏼
Content Inspiration
Soul Gym Content PROMPTS 💡
If you aren't feeling inspired, should you still create?
Courses You Can Access 👏🏽
Joyful Productivity Course
AI Tools for Authentic Business
Q&A Videos about Authentic Marketing & Business