Course Summary
Blog-to-Book Course
Welcome!
How to best engage with this course platform
Our Private FB Group for Mutual Support -- connect here 🥰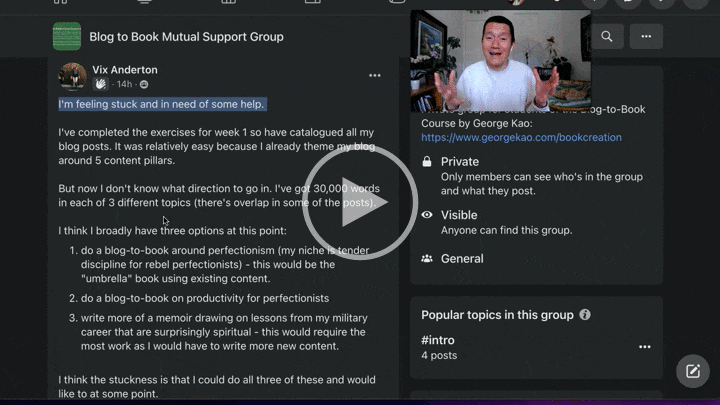 👏🏽 Great example of a support thread in our FB group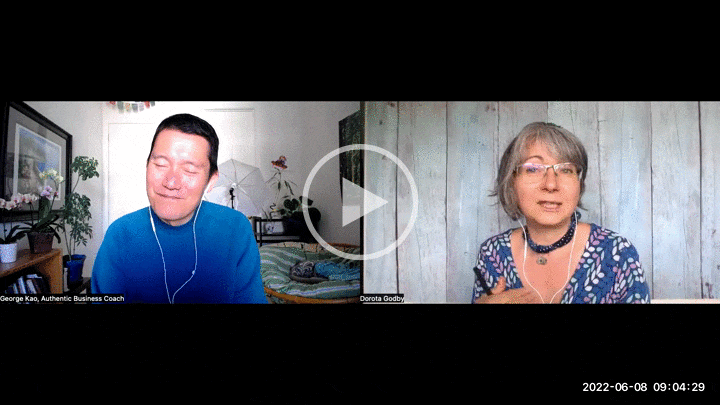 Course Helper: Dorota Godby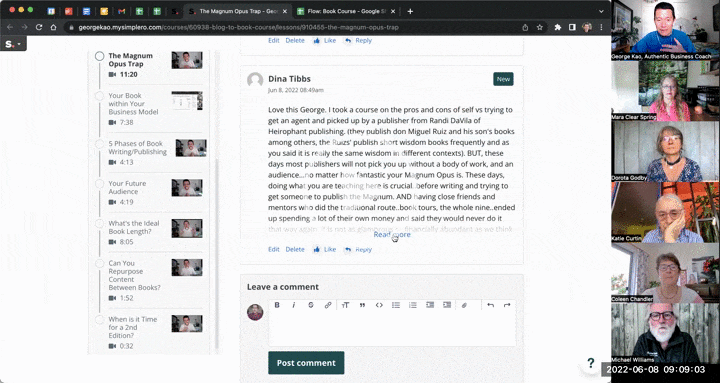 Comments under the lessons are worth reading!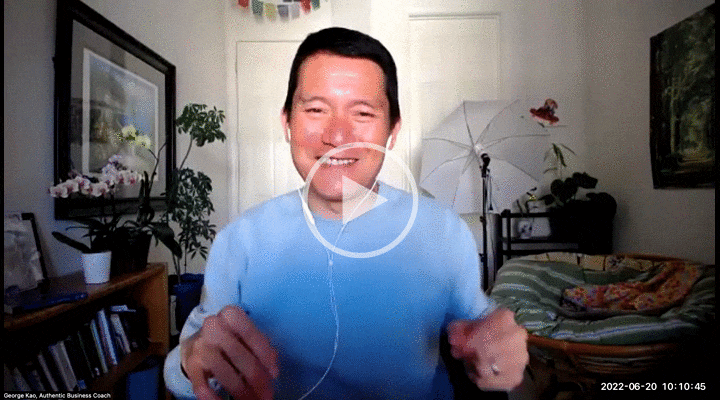 Watch whole course at once, or at own pace, one phase at a time?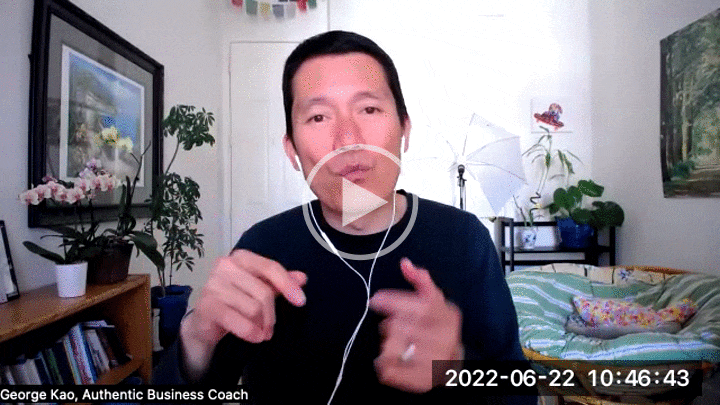 Is there a Resource Document / written handout?
The Publishing Mindset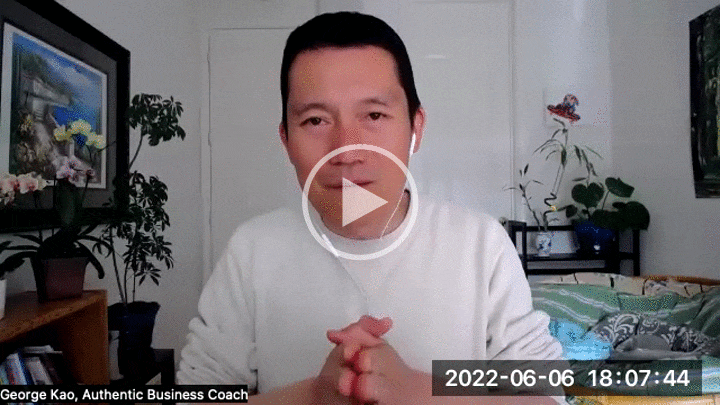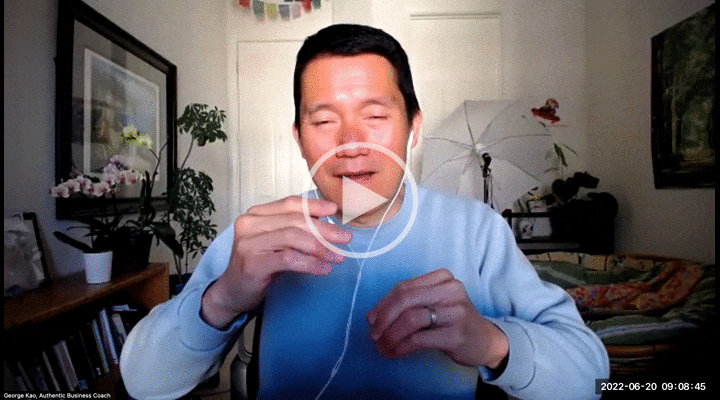 Imposter syndrome in book writing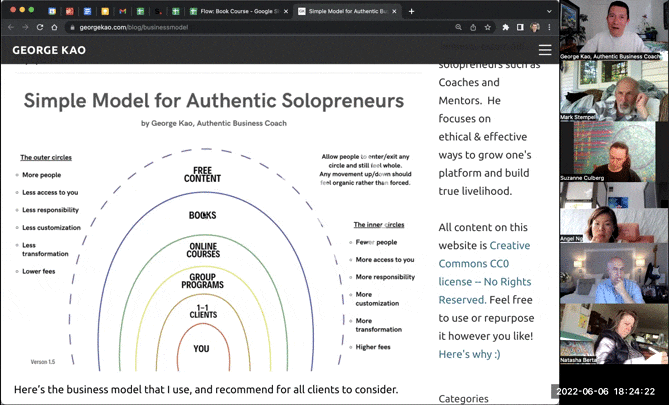 Your Book within Your Business Model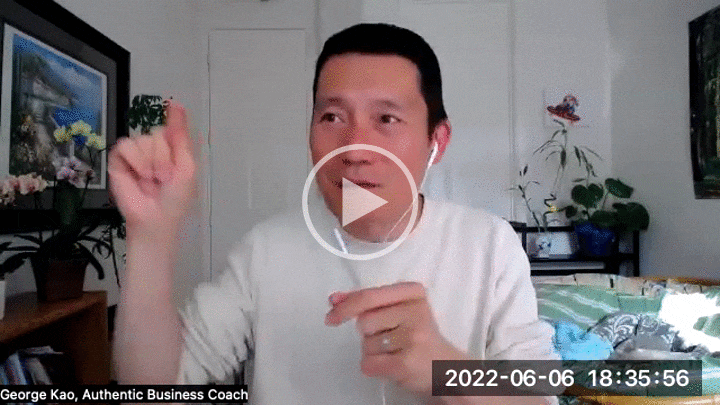 5 Phases of Book Writing/Publishing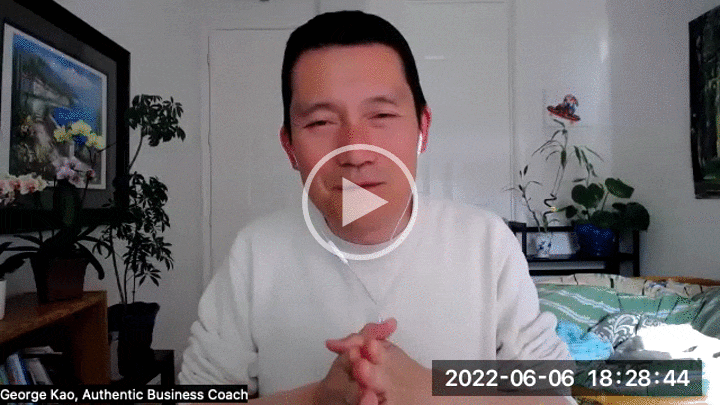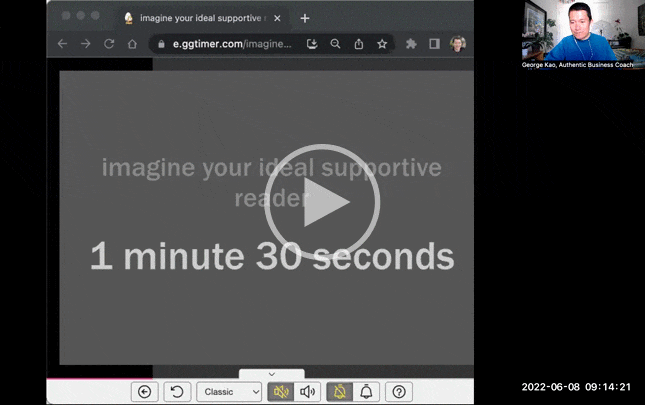 Imagine your ideal reader -- write a quick note...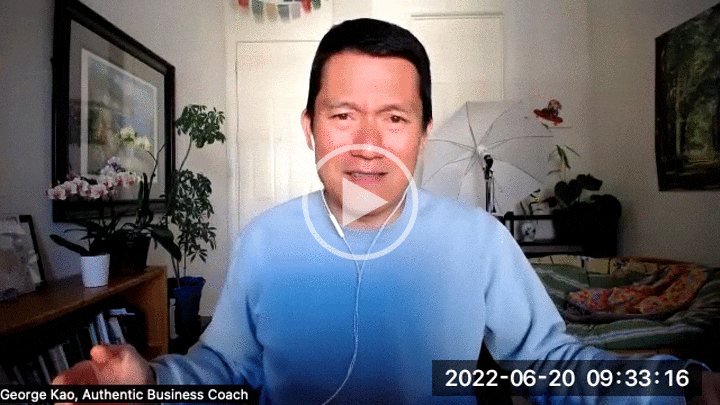 Should you publish workbooks or "low content" books?
Choosing your Book Topic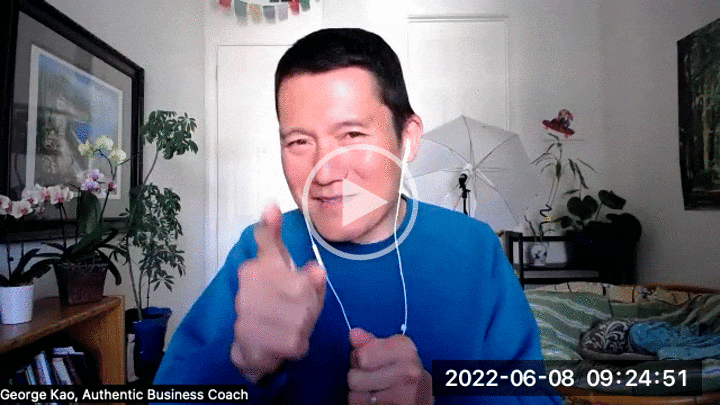 How to choose topic of your book? Intuitively or analytically...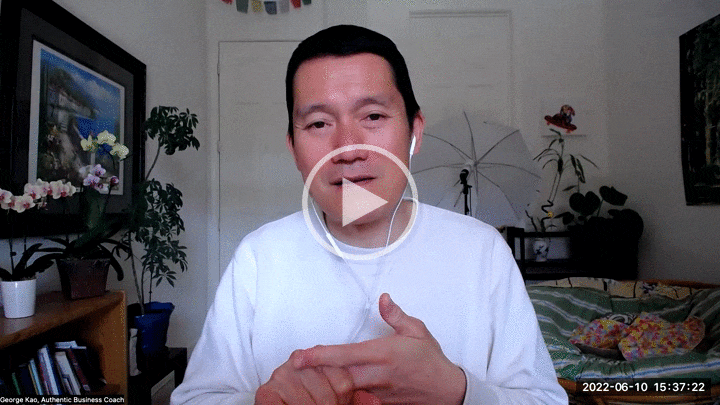 Several questions to help you choose the theme/topic of your book...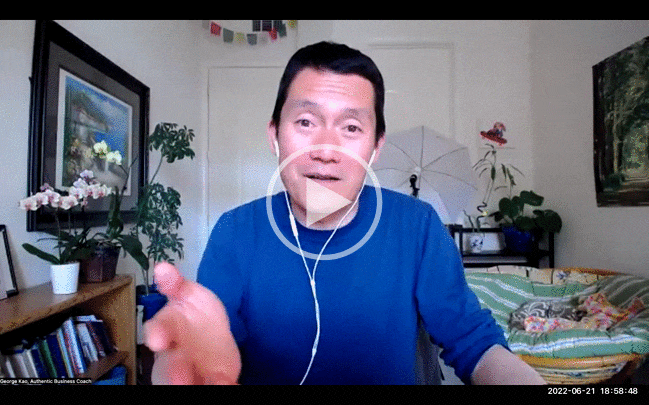 You have lots of writings... what order to publish your books?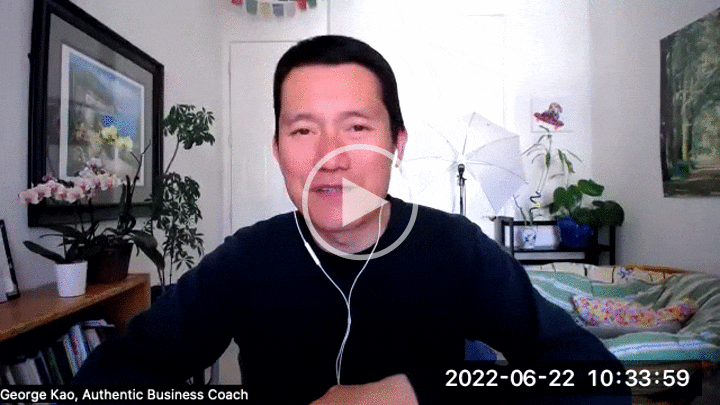 Are inspirational books less valuable than how-to books? Free vs premium content...
Book Structure & Content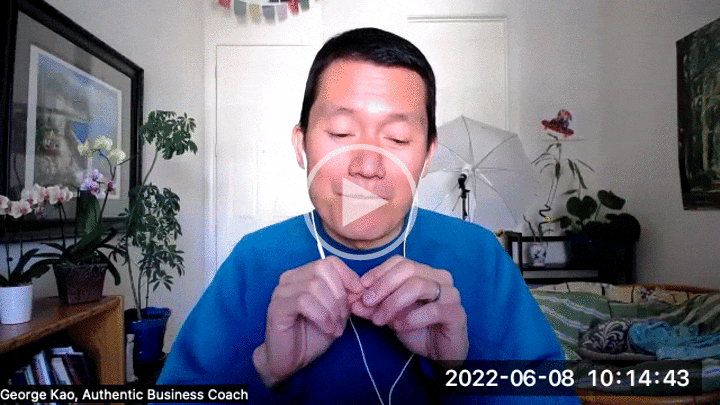 Book Structure... and is it really OK to just have a book of blog posts?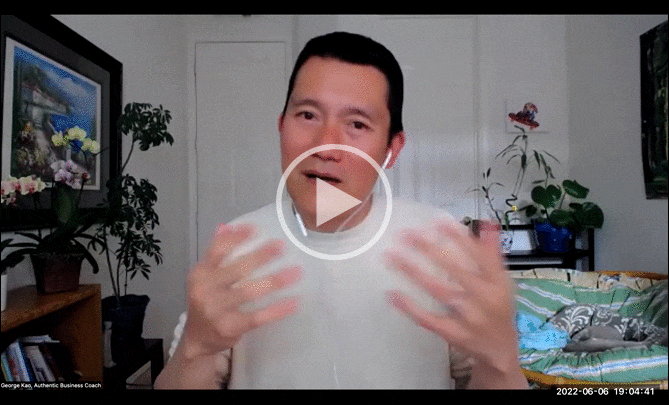 What's the Ideal Book Length?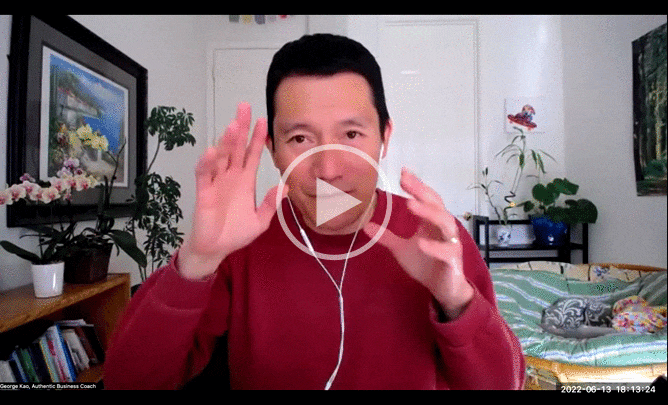 What kinds of CTAs could you have in your book?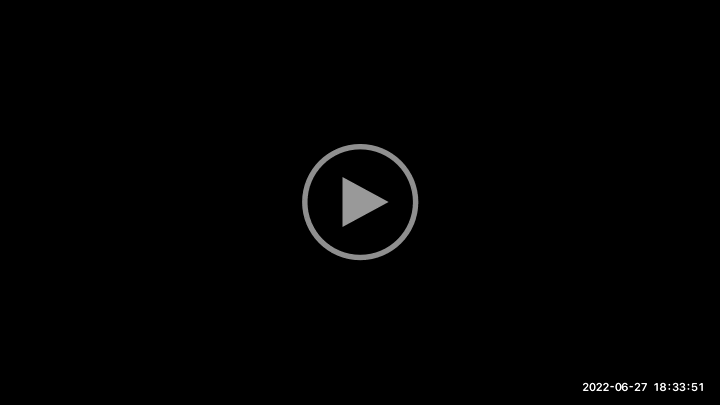 End of chapter CTA links -- Text or Video?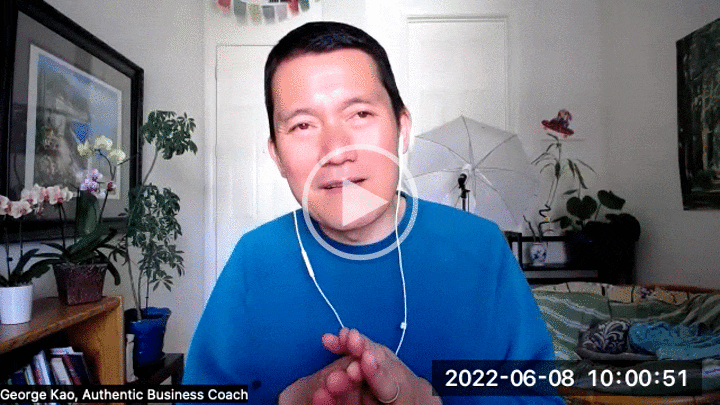 Is there an ideal chapter length?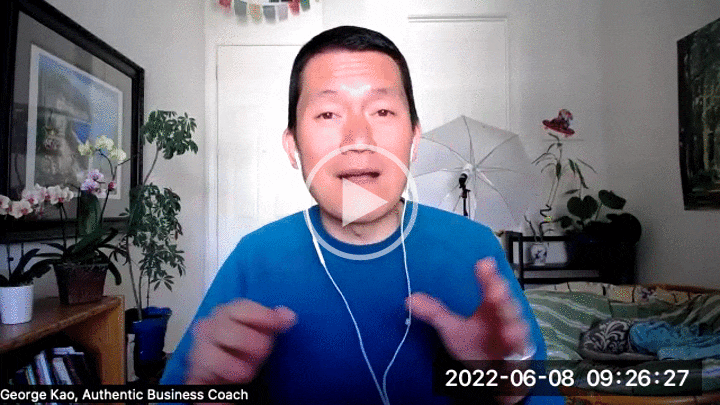 Can you mix styles, e.g. memoir vs how-to?
Can you repurpose content between books?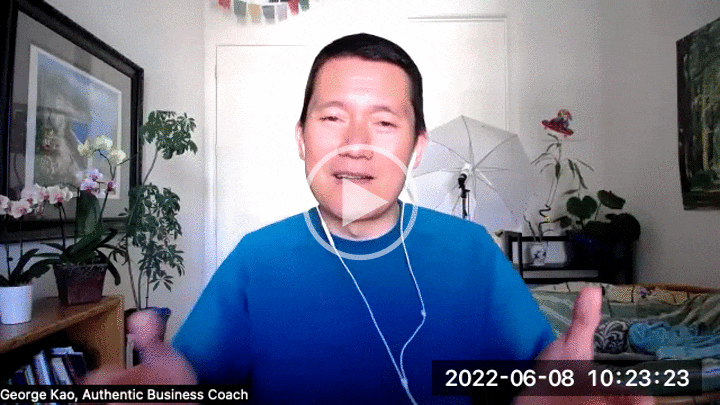 Ideally you would publish blog posts / chapters along the way...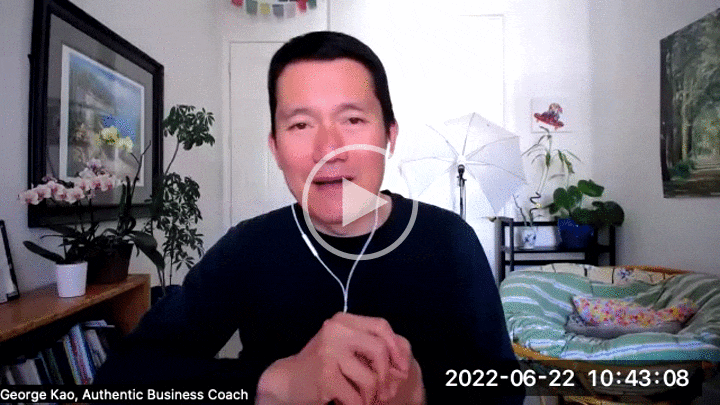 Linking ideas, or having one chapter flow better into the next one...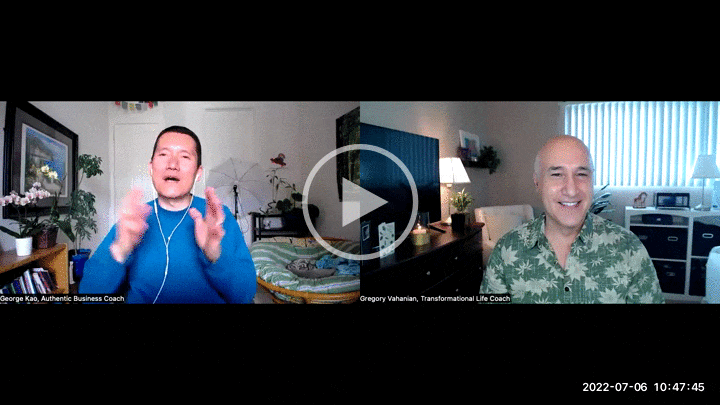 Does social media, like Facebook, own your writing?
Gathering Your Notes / Blog Posts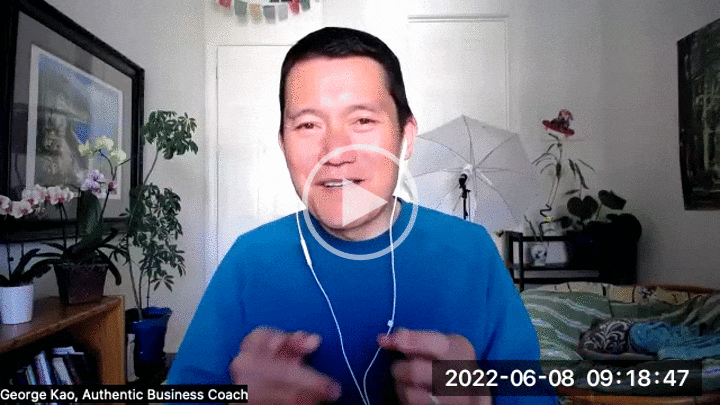 Intro to the "gathering" exercise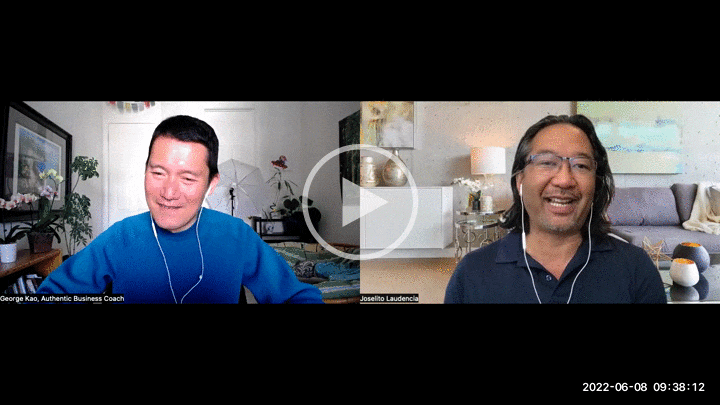 Joselito Laudencia shares experience of gathering notes into a book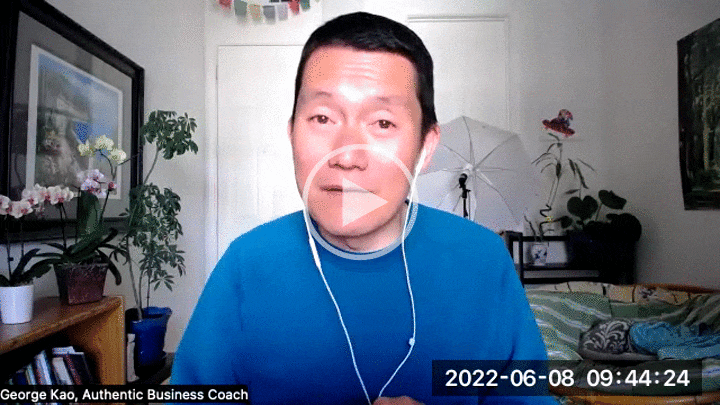 How broad or narrow should book topic be?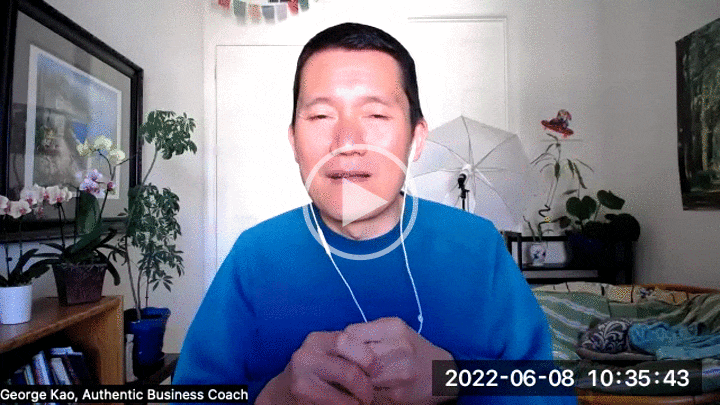 Is 1 blog post a chapter... or multiple posts?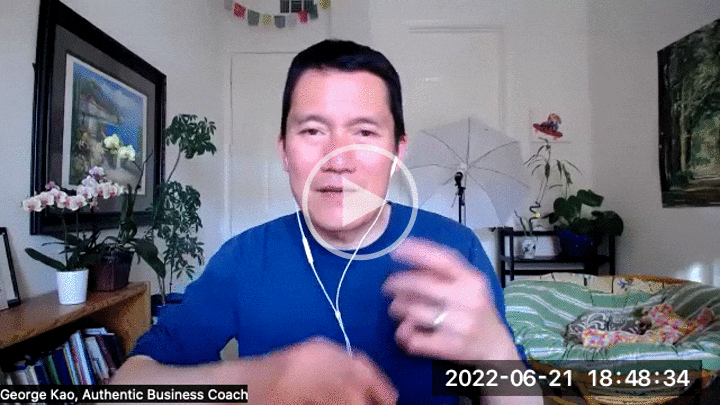 Should you mix in yet-unblogged writing with blogged writing in your book?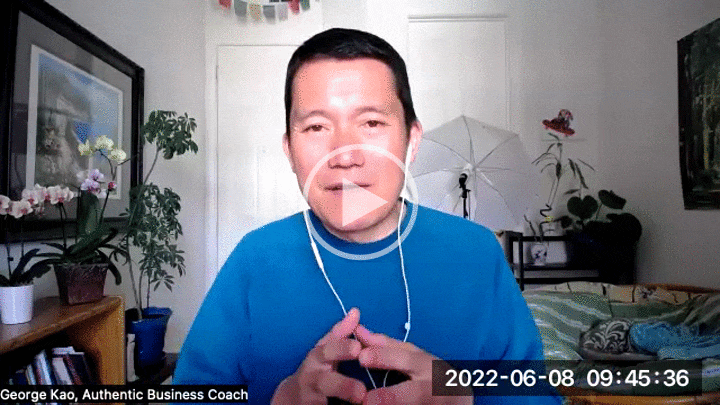 What about interviews and speaking notes, can they be book material?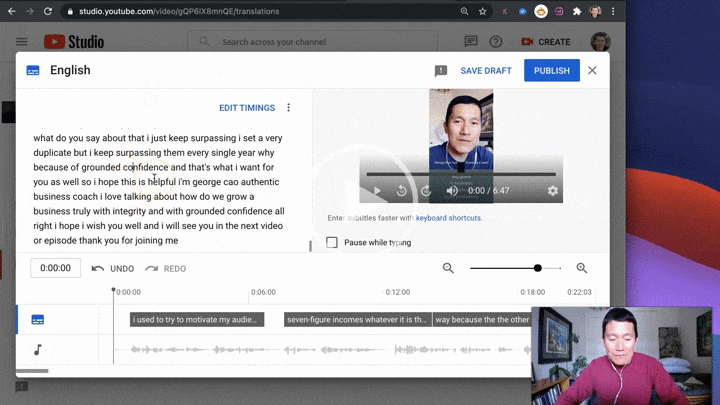 You can also turn Audio recordings into book chapters...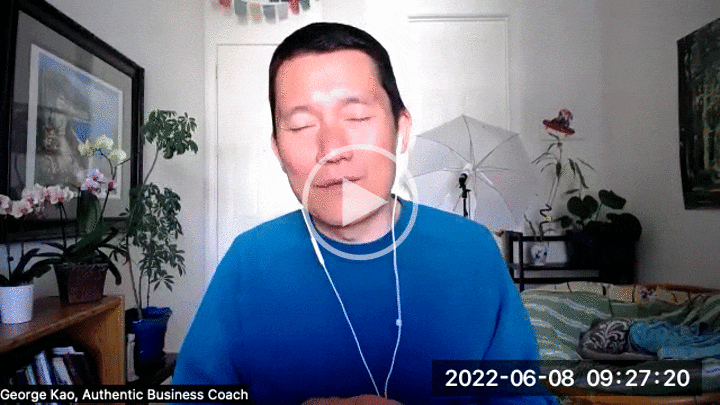 How to gather book references?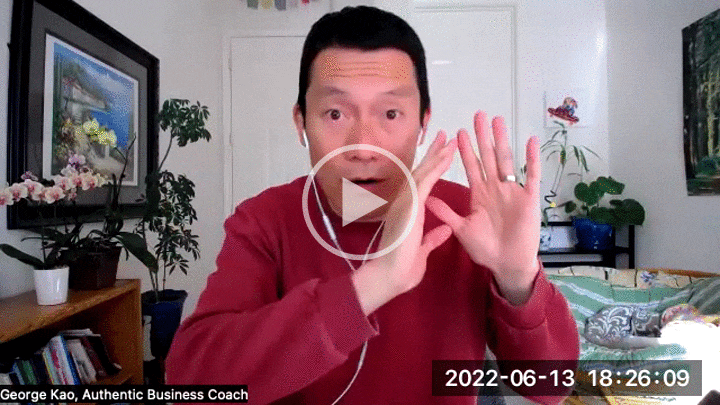 Quoting others in your book -- Fair Use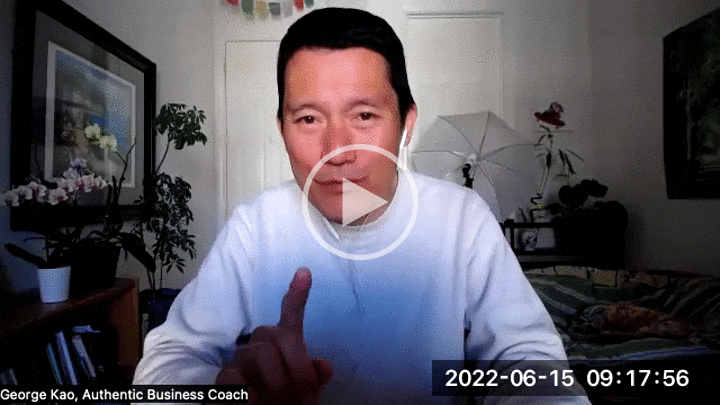 What about images / photos / graphics in books?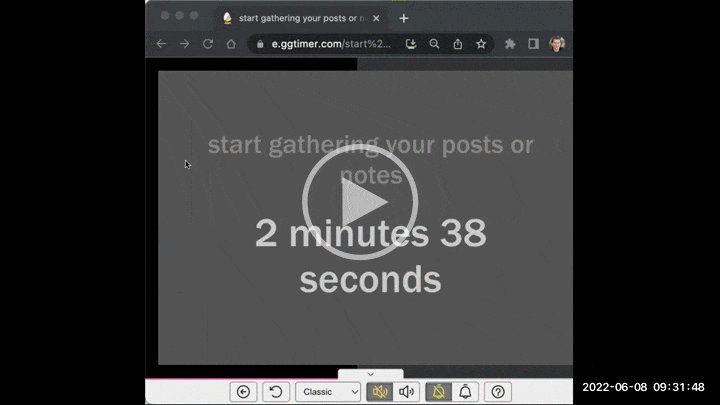 EXERCISE: Gathering Your Posts and Notes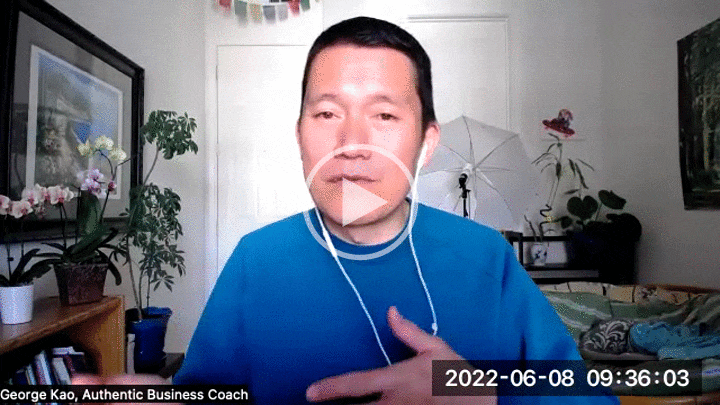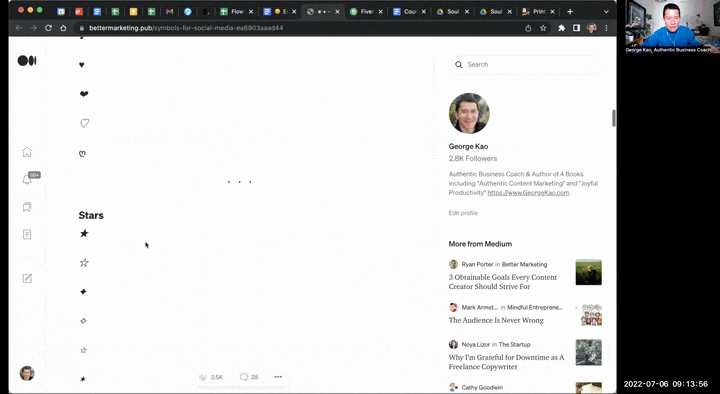 Categorizing Your Blog Posts / Notes: Simple Document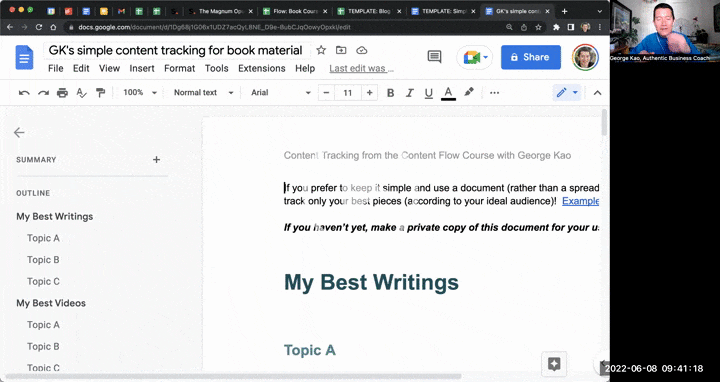 Categorizing with Simple Google Doc
Quickly See Your Best Social Media Writings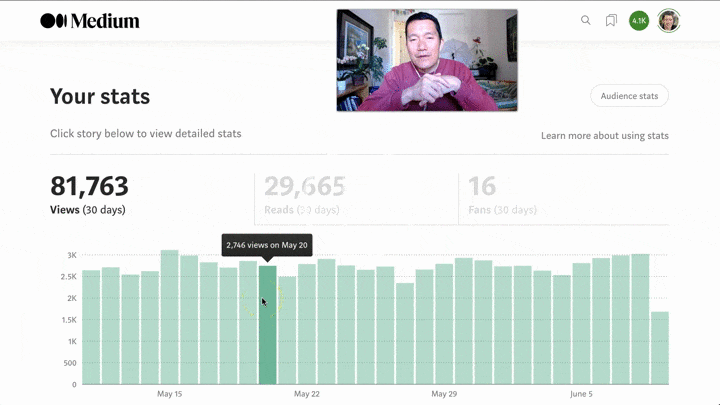 Quickly see your best writings on Medium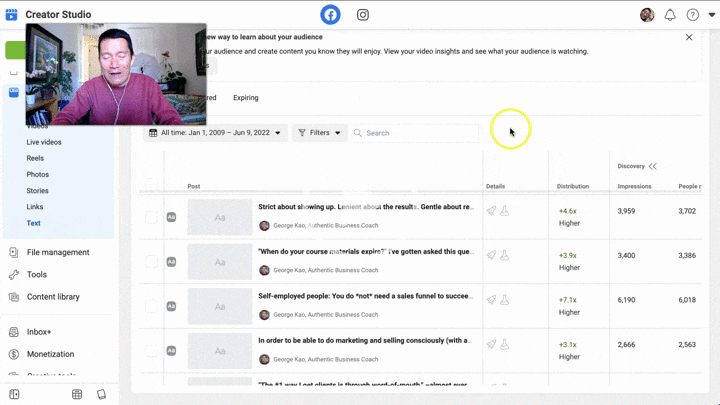 Quickly see your best writings on FB Business Page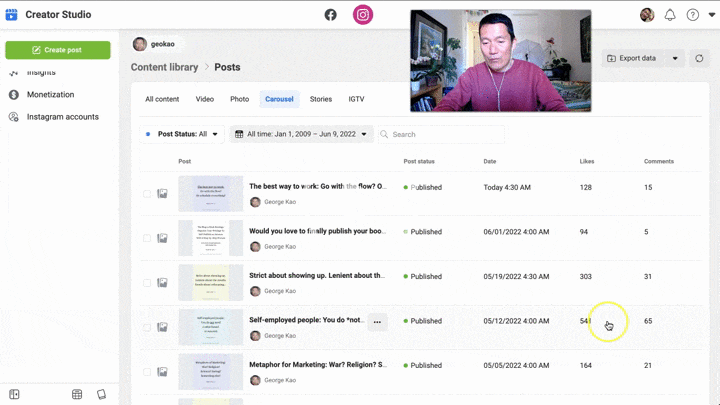 Quickly see your best writings on Instagram
Categorizing Your Blog Posts / Notes: Spreadsheet
Categorizing with Spreadsheet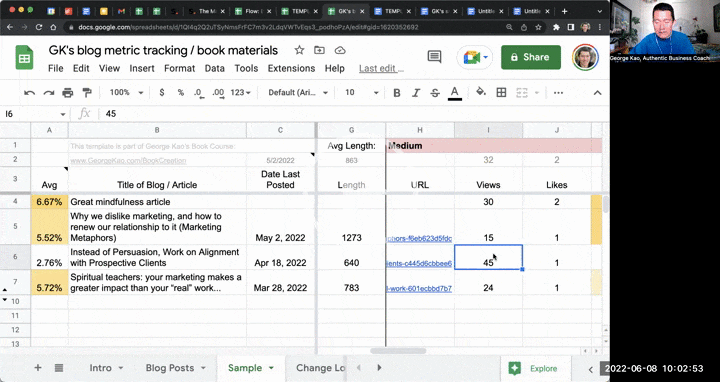 How to put repurposed articles into the Spreadsheet?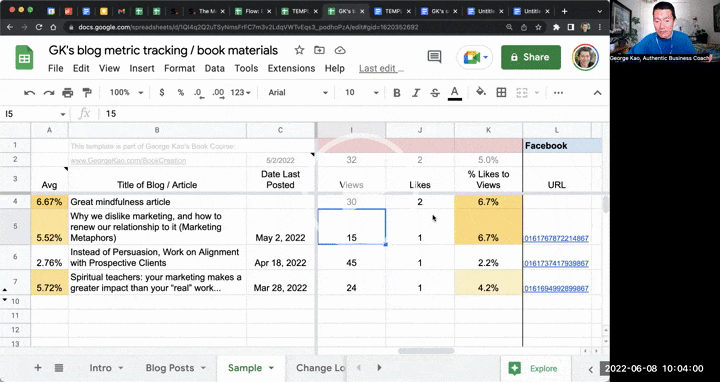 Only track organic reach?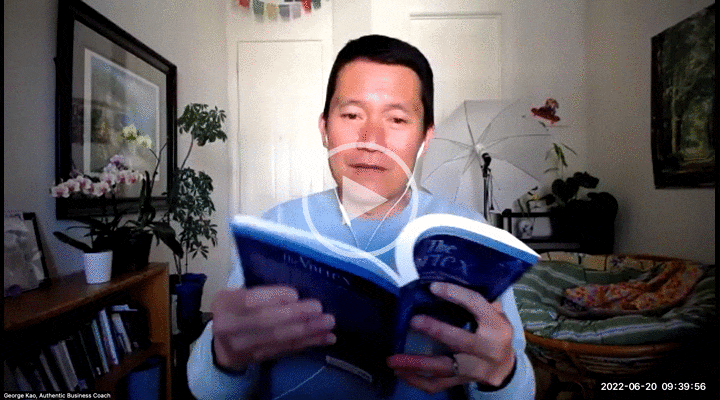 Overwhelmed with spreadsheet consolidation?
Let's Categorize!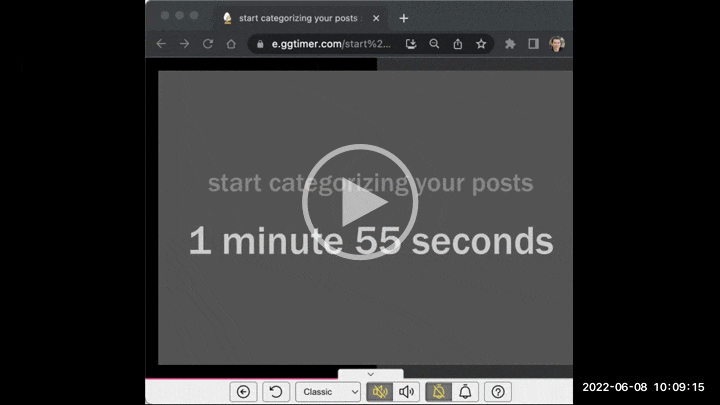 EXERCISE: Categorizing Your Notes into Themes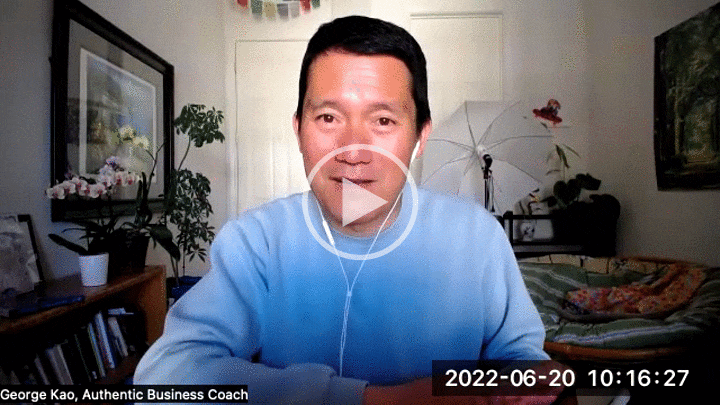 Order of chapters: prioritize Best or Logical?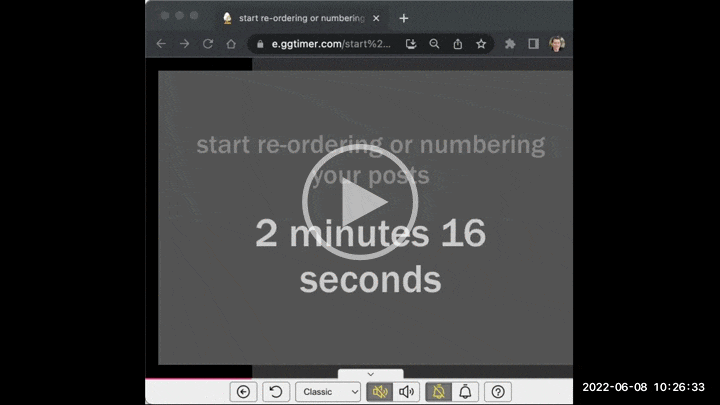 EXERCISE: Put your Posts into Chapter Order...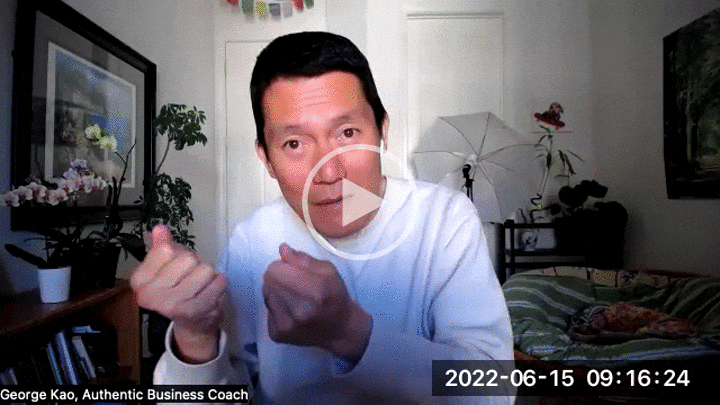 Thoughts on the Intro and Ending Chapters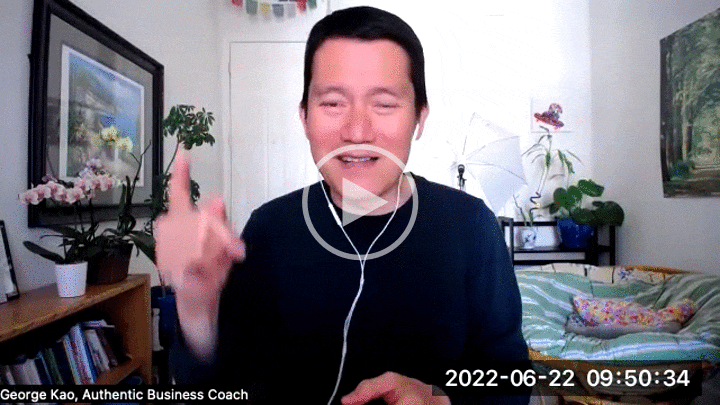 Introductory chapter -- how long and what's in it?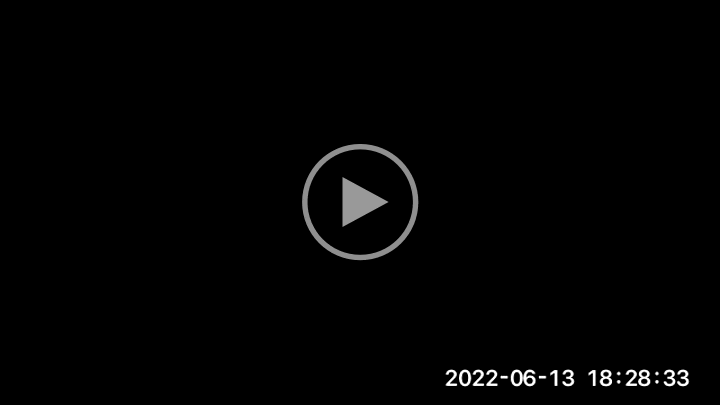 At what point should you stop adding to the material of a book?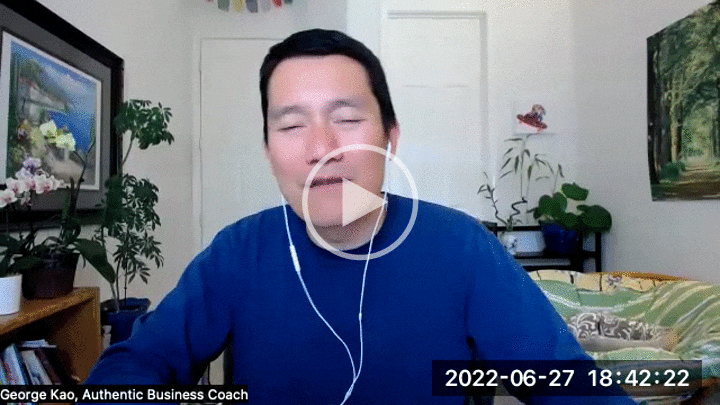 You have so much writing... how to chunk down to manageable book?
Recruiting Your Editors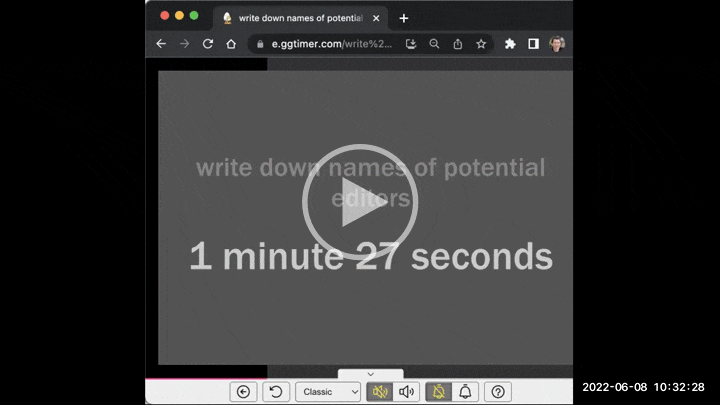 EXERCISE: Write names of potential editors...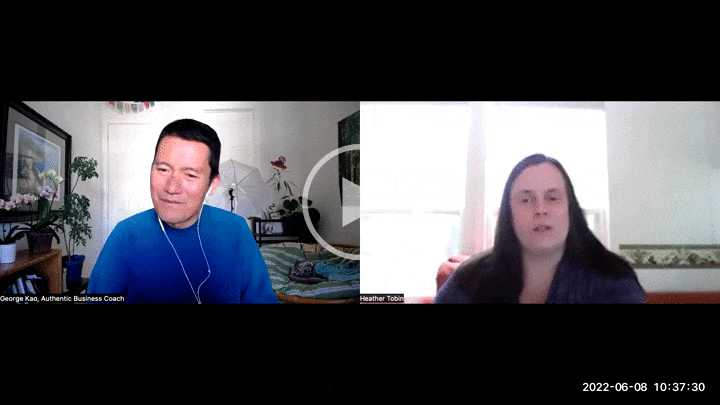 Heather Tobin: Experience of a Volunteer Editor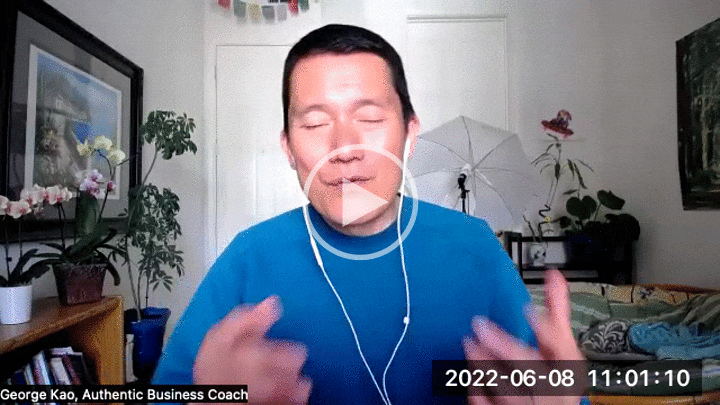 Do editors need to be content experts? + How much time to give them?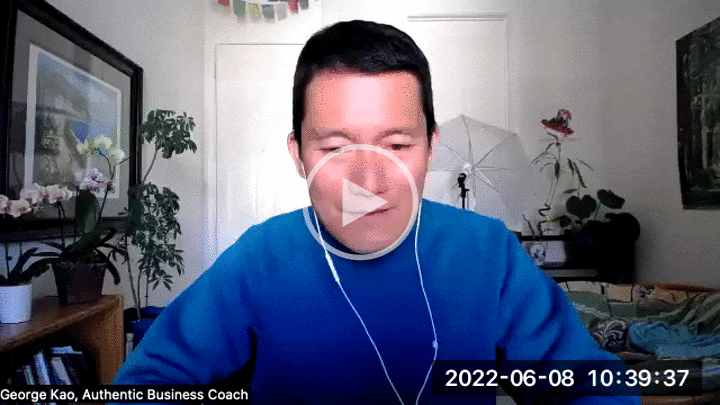 How much work is expected of a Volunteer Editor?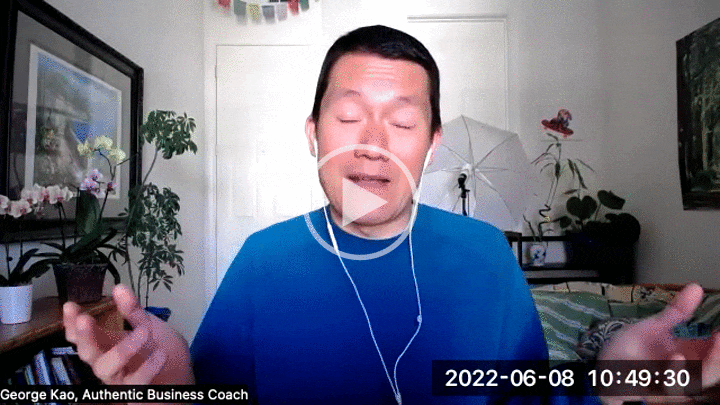 How many editors to invite?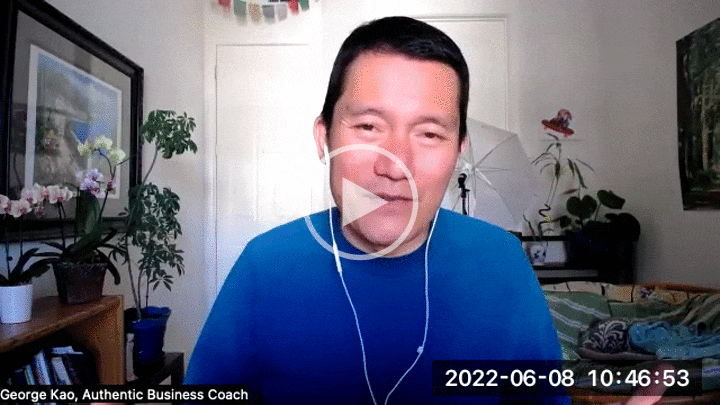 Should we give our editors some incentive or thank-you gift?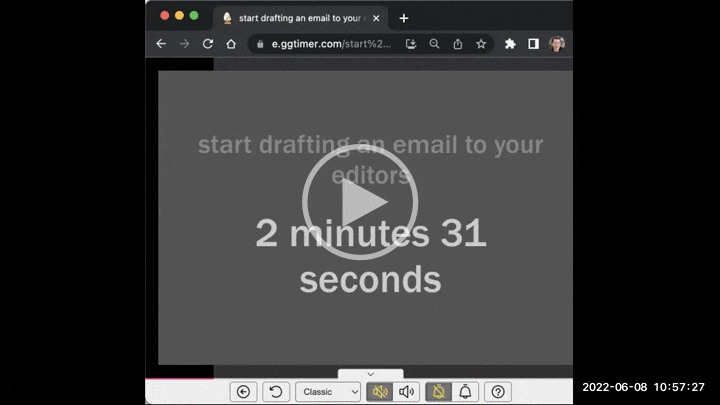 EXERCISE: draft email to editors...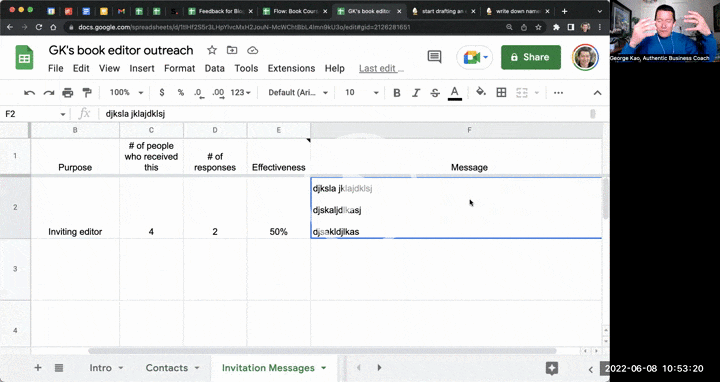 Track your contacting of editors...
Book Draft Document for Editors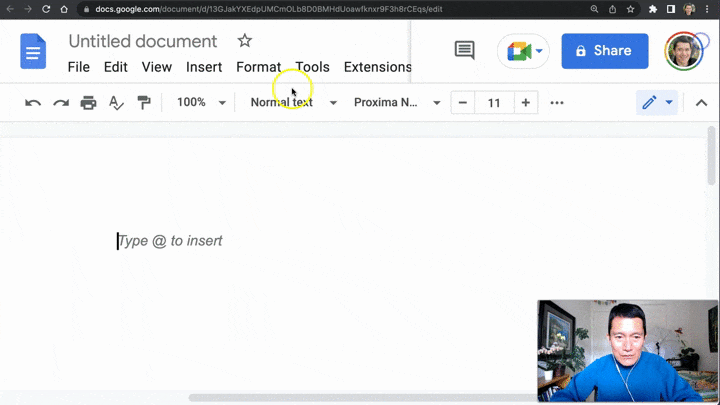 Actual example of me prepping a document for Editors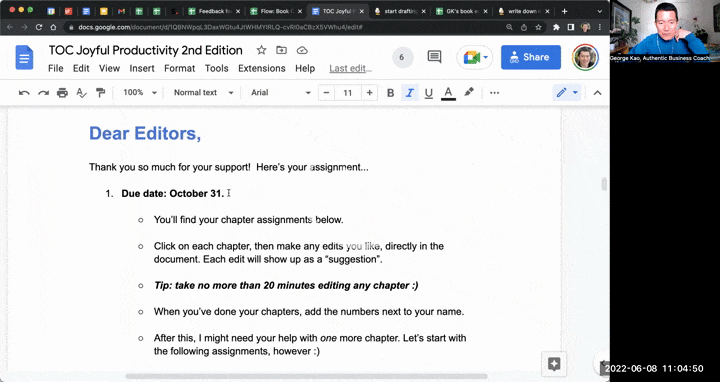 HOMEWORK -- Prepare the document for Editors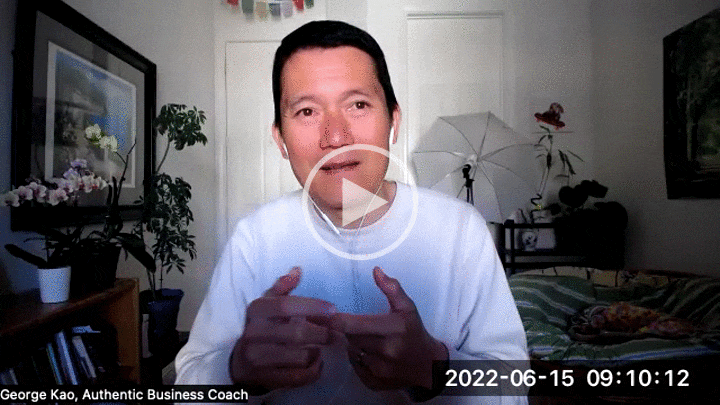 How "ready" does your Draft need to be for the Editors?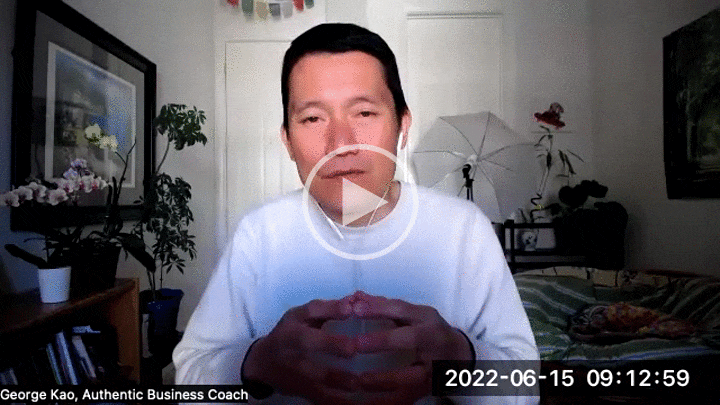 Give all Editors the whole book draft?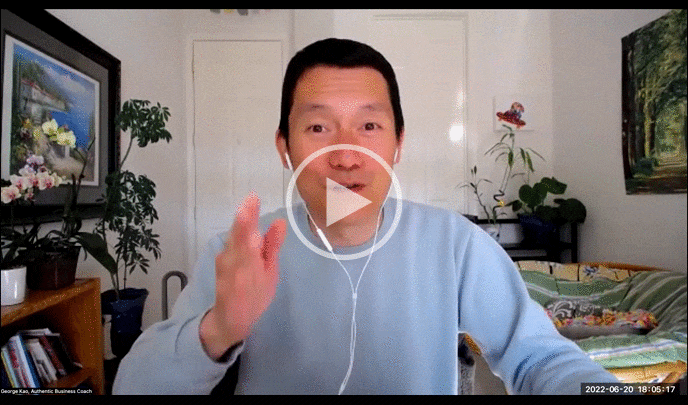 Yes: Acknow. + About Author. No need: Preface, Foreword, Afterword.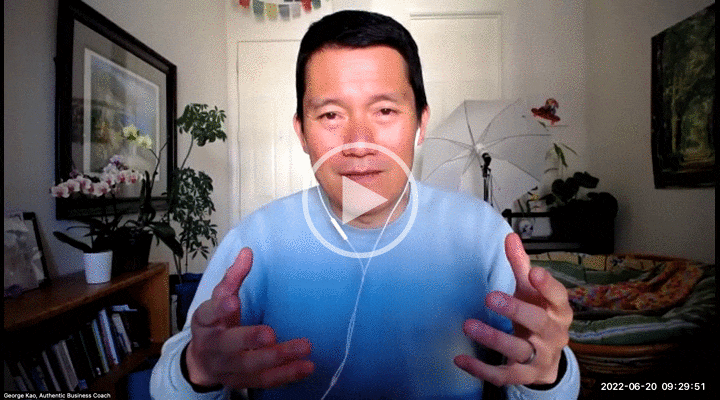 Why I put FB video at end of each of my chapters...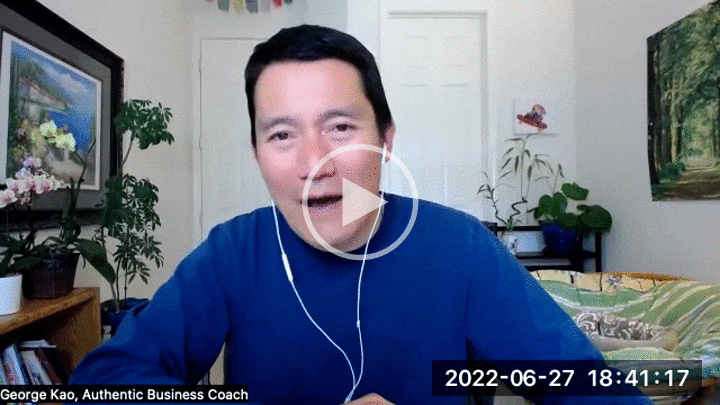 If you have many references... just make a bibliography?
Are you ready for a 2nd Edition?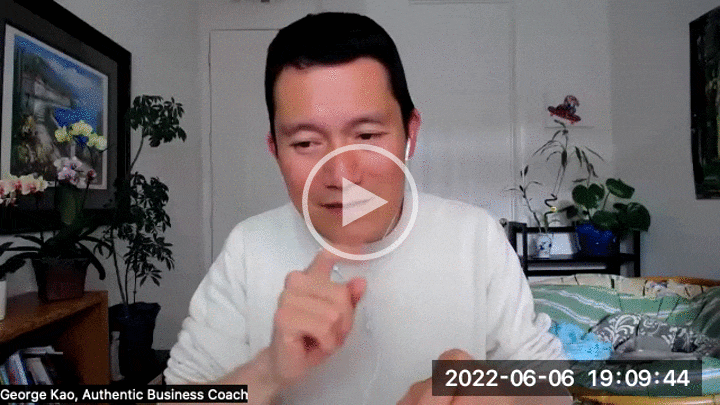 When is it time for a 2nd Edition?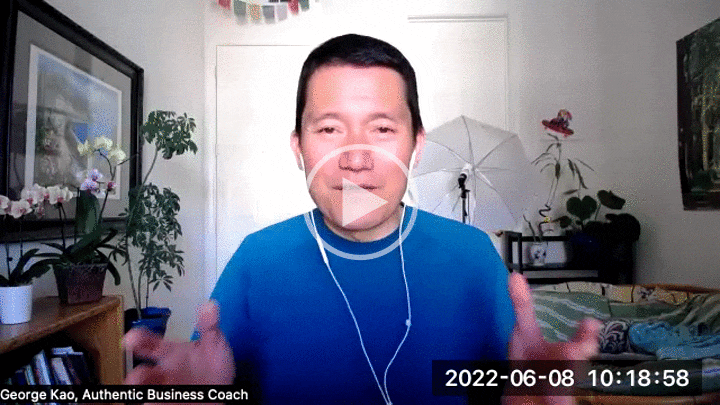 2nd Editions: add more content, or just revise?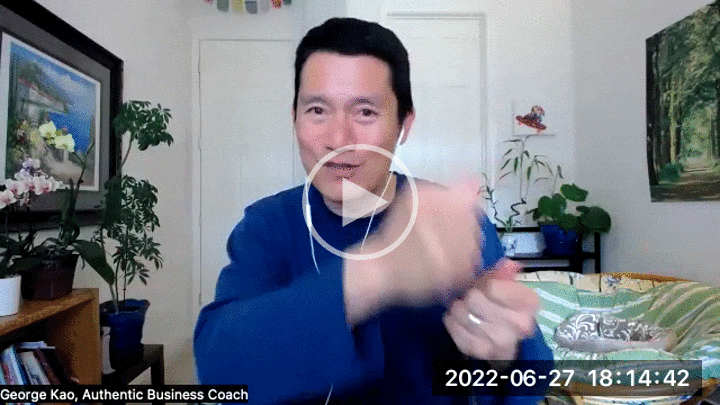 What's my process of creating a 2nd edition?
Progress Checkpoint 1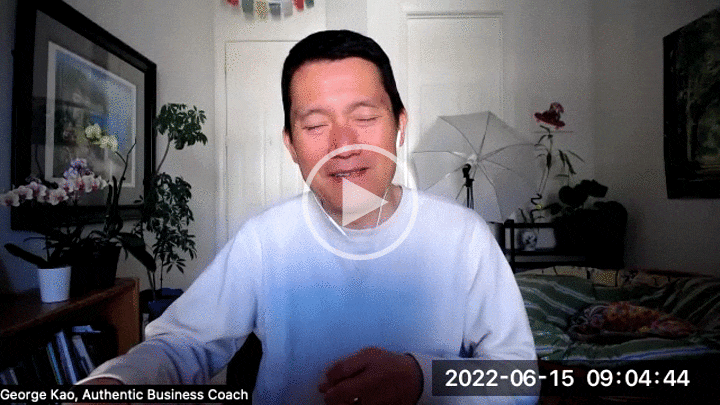 How's it going with getting Editors?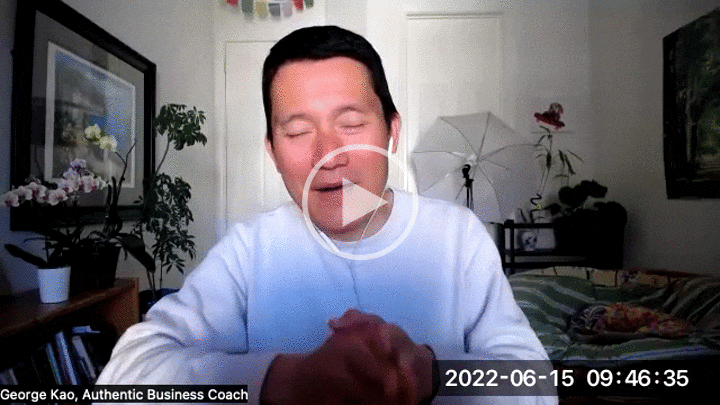 Reminder: join our FB group for mutual support 🥰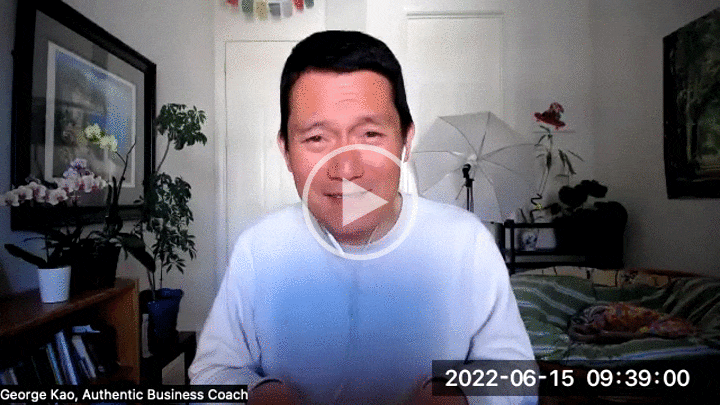 Announce your book process as early as possible 🏃🏽‍♀️
📚 THE BOOK LAUNCH TEMPLATE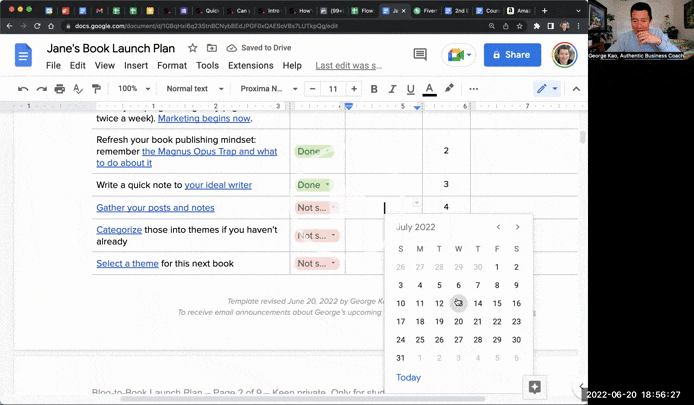 The Book Launch Template 📚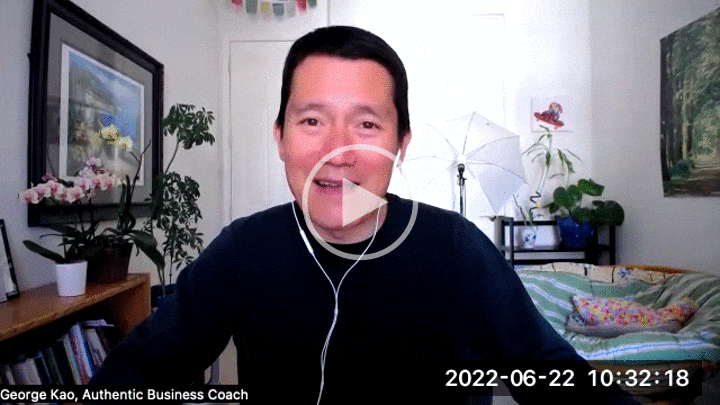 What's the ideal time of year to launch a book?
Book Marketing Principles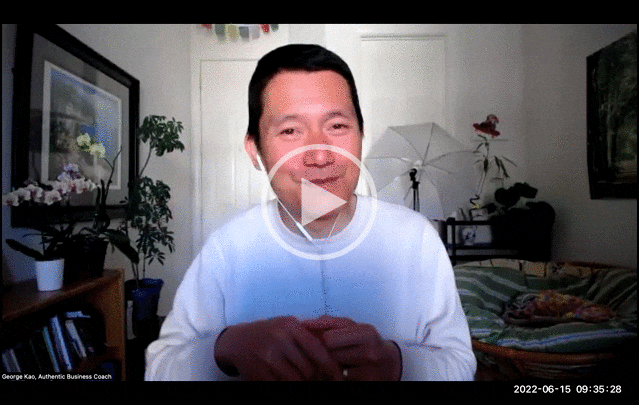 Top 10 Factors for Book Selling Success
Lots of Book Marketing Ideas!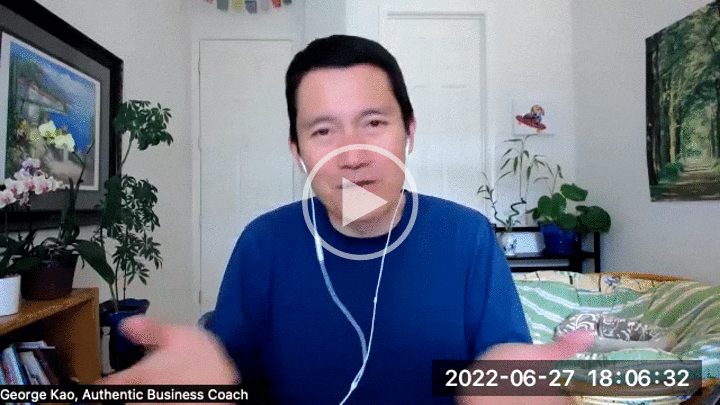 Do you have to market your book... or can it just be "discovered"? 🤔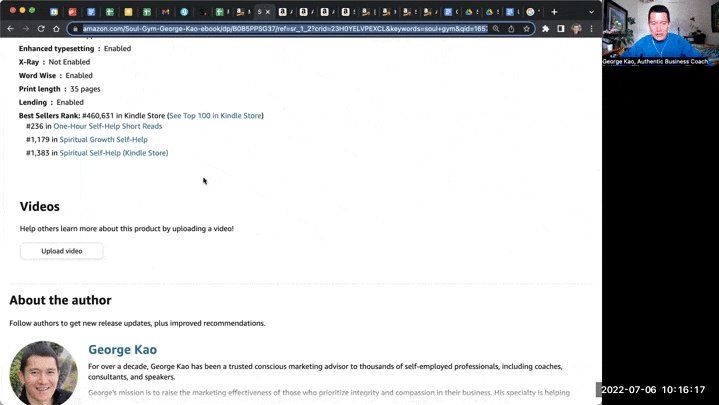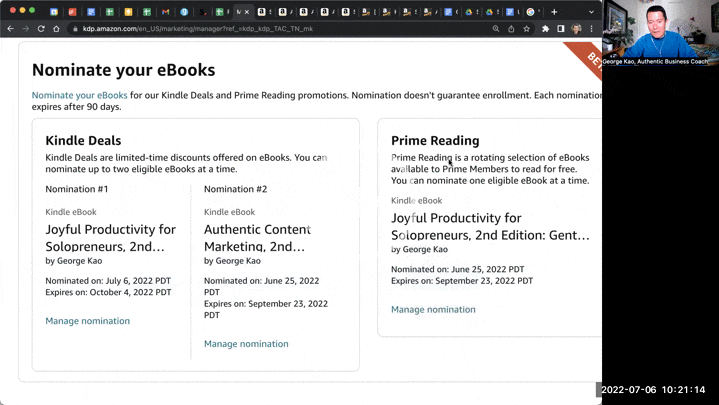 KDP Marketing -- Nominate your ebooks and prime reading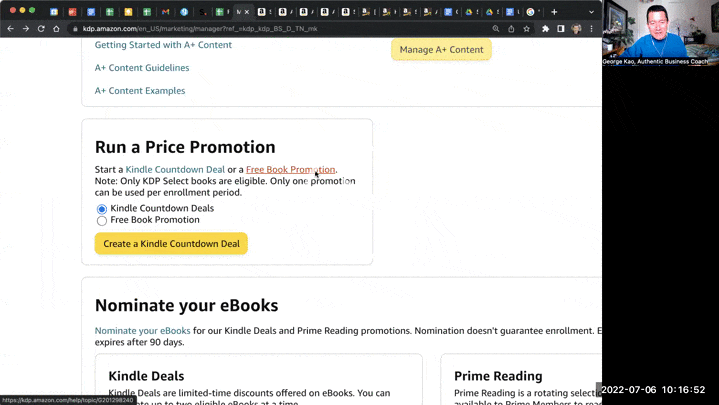 Kindle Countdown Deal and Free Book Promotion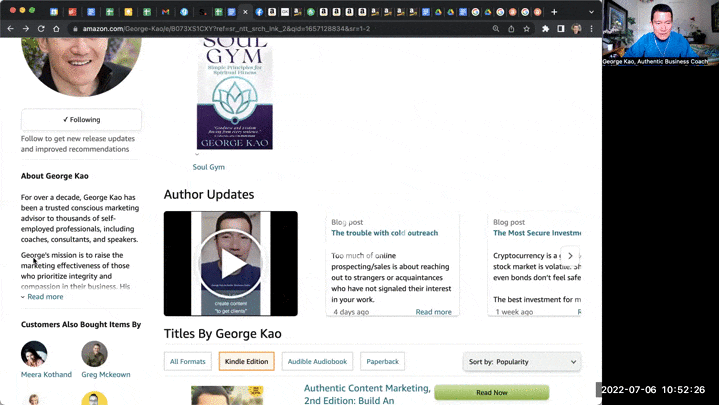 Amazon Author Central - syndicate your blog post RSS feed to your Author Page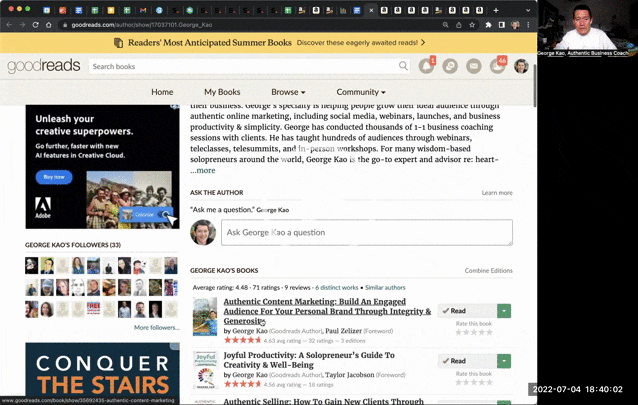 Set up your Goodreads Author Page and associate your books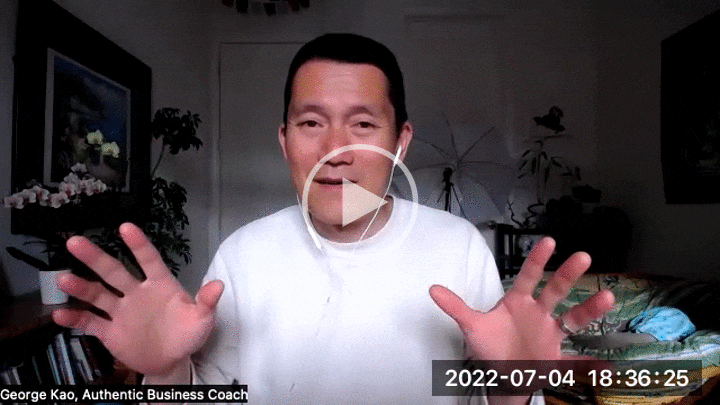 Most book sales are Kindle version... so teach your audience how to read that version :)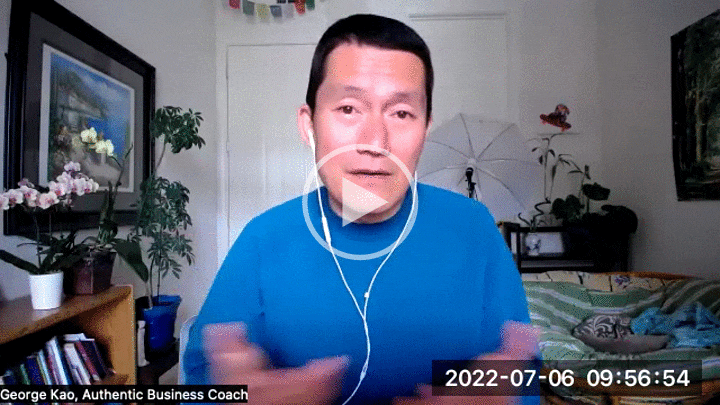 The lazy / easy way -- does it require a large audience?
Book Title & Subtitle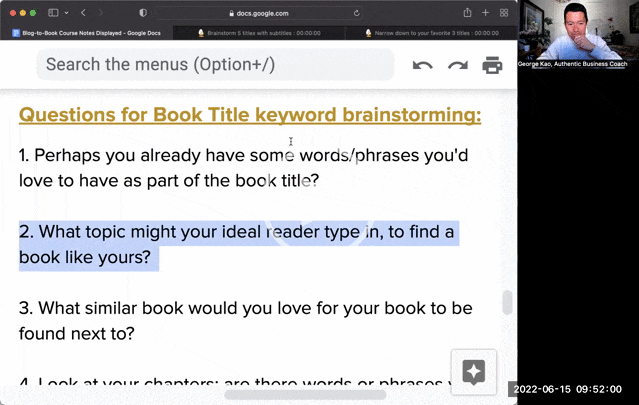 Keyword brainstorming for the book title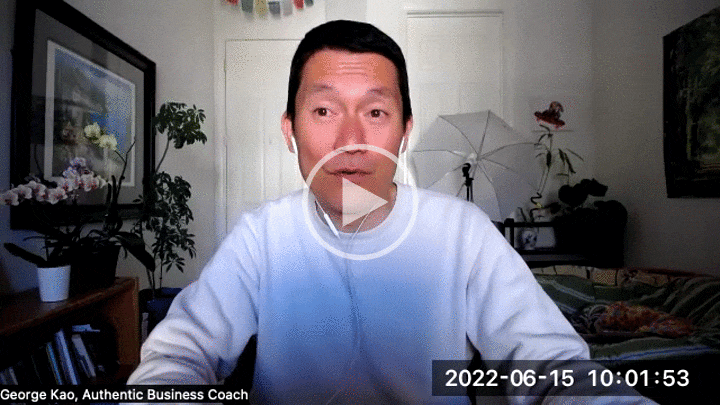 How niched-down (specific) should a book title be?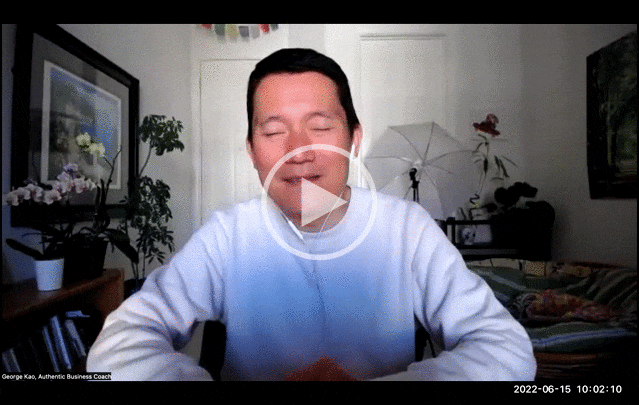 Turn your Keywords into Book Titles ✨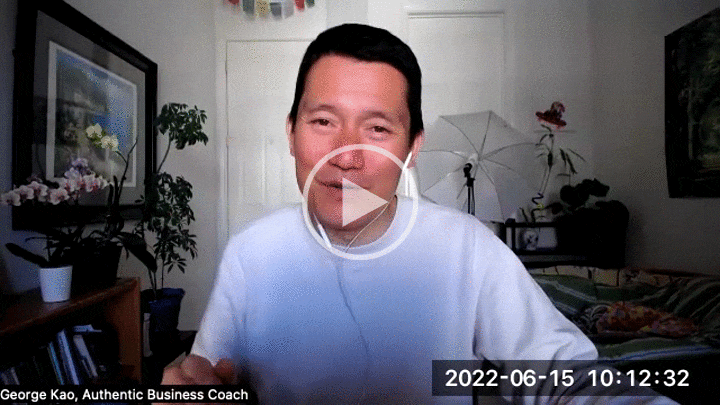 Poll your audience with your favorite 3 book titles 🤗
Ensure that your Title doesn't violate existing trademark/copyright
Fiverr Tutorial
The main Fiverr tutorials have moved...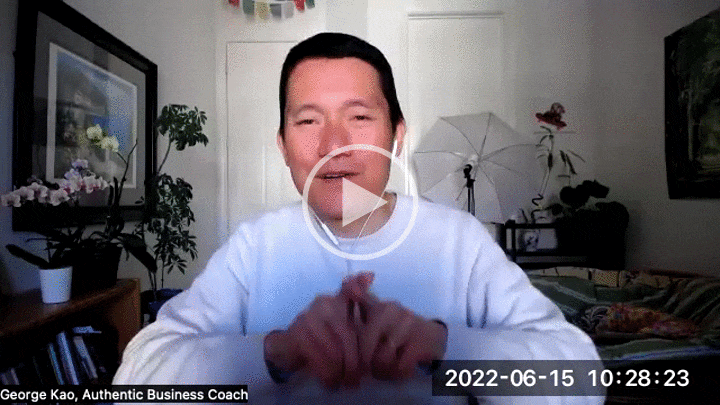 Try Fiverr: get started with a book cover idea...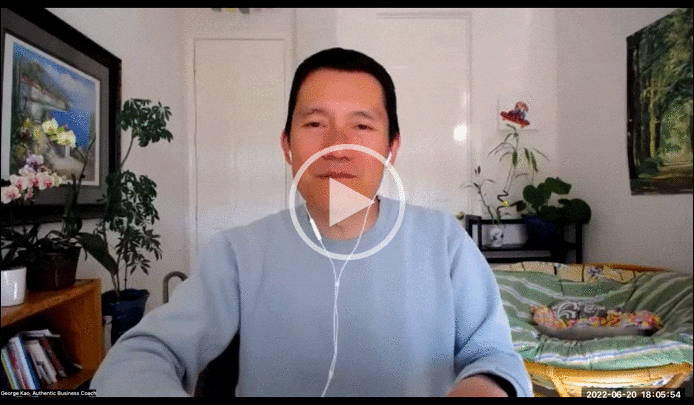 Finding a Fiverr book editor
Getting Reviews & Book Blurbs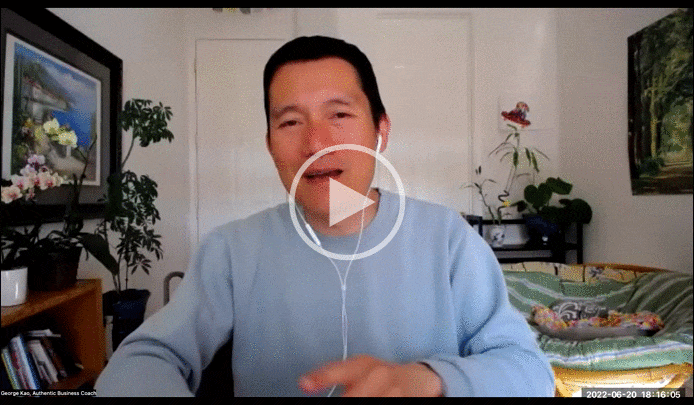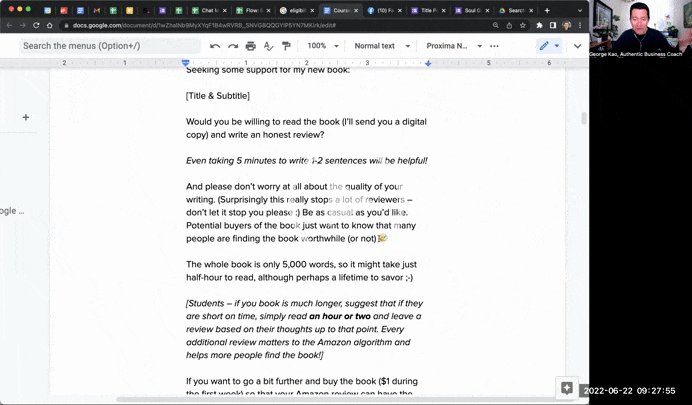 Getting reviews (important!)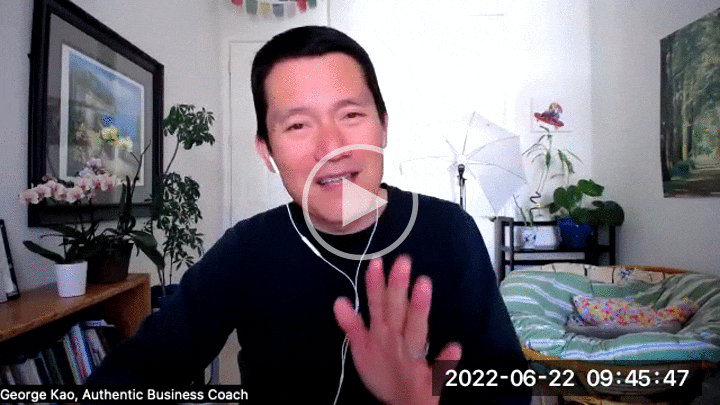 How many reviews to aim for?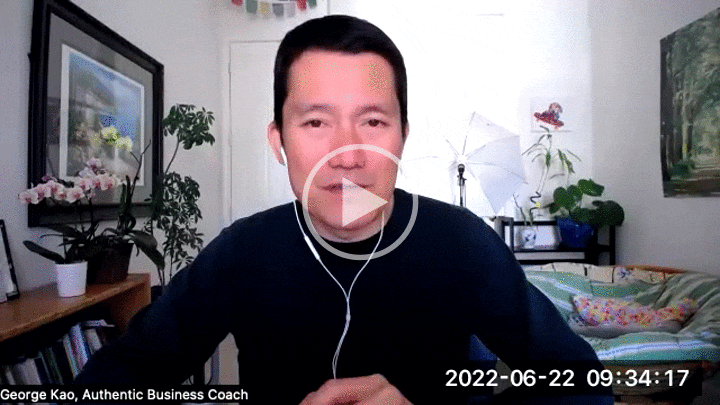 Give a book summary to reviewers also?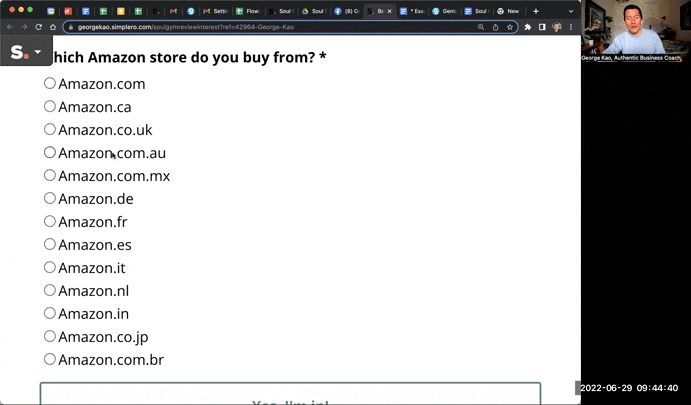 My lazy way of requesting book reviews...
Progress Checkpoint 2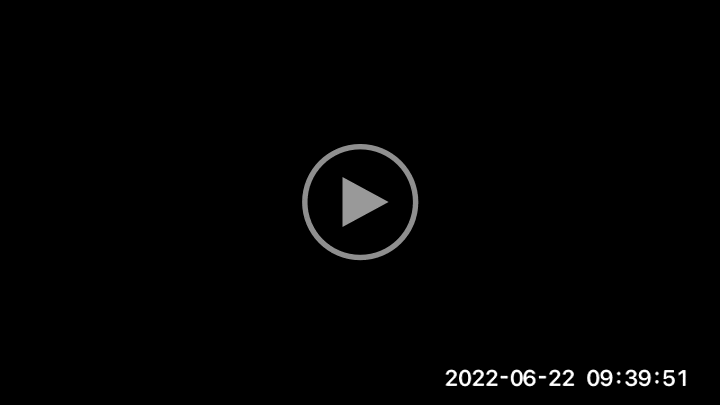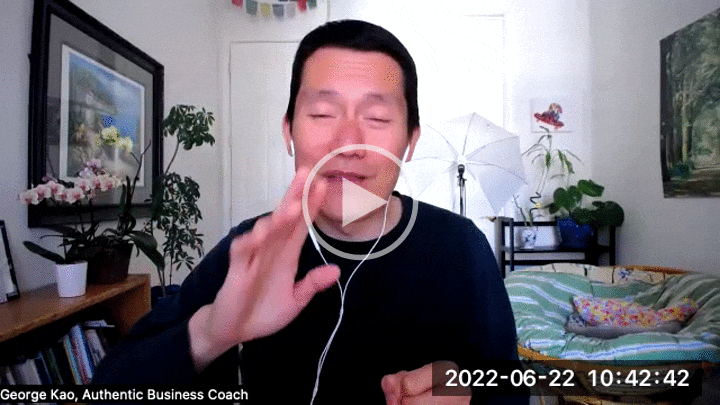 Delay publishing, so you can fill the gaps in your book first?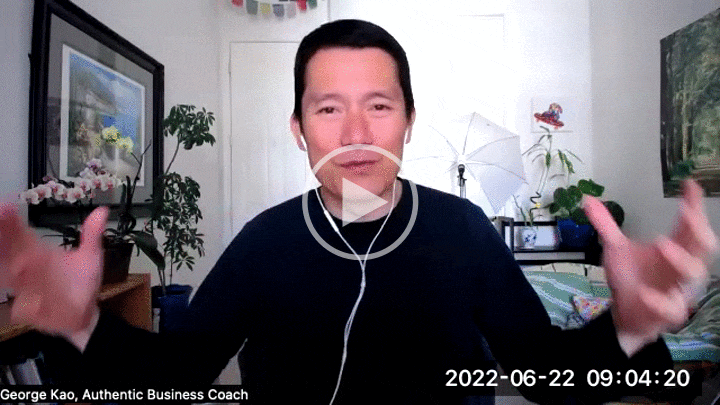 My personal update (and on "working lightly")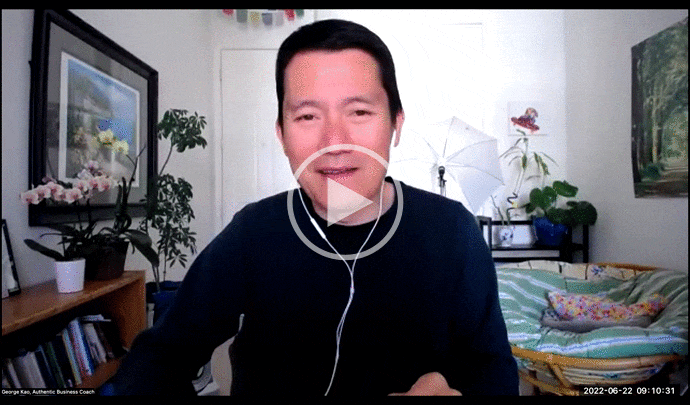 Check-in with / remind your Editors
Plan to do a Pre-Order period?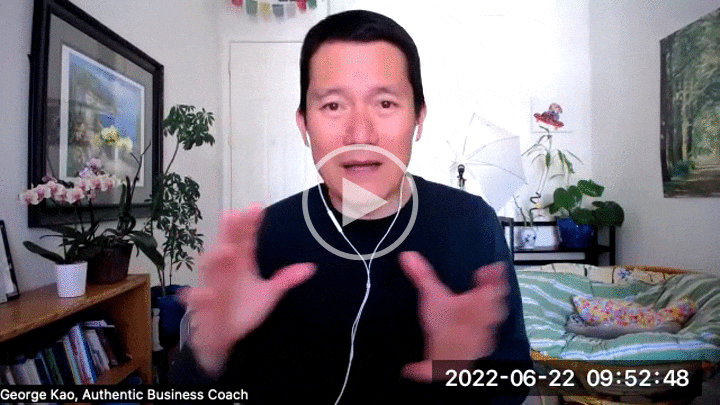 Amazon -- ethical objections to using it or buying from them?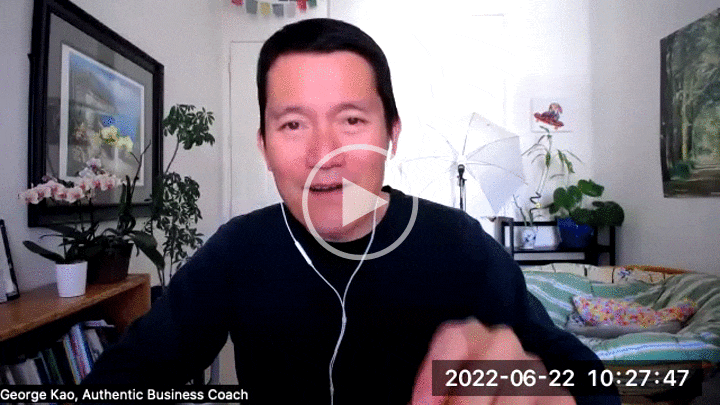 Carve out extra time during launch week...
Book Cover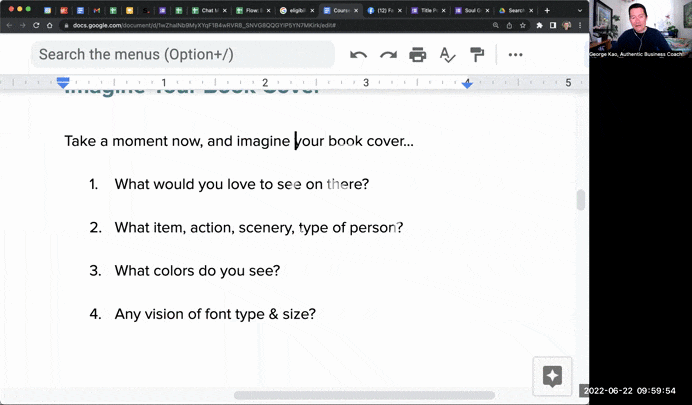 Book Cover -- first brainstorm your vision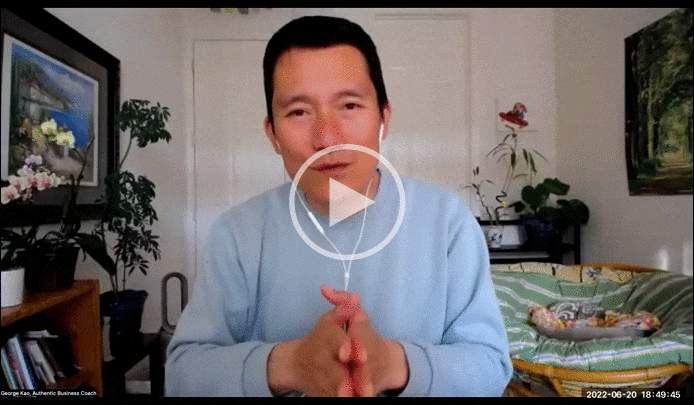 Book Cover -- secondly, get ideas via Amazon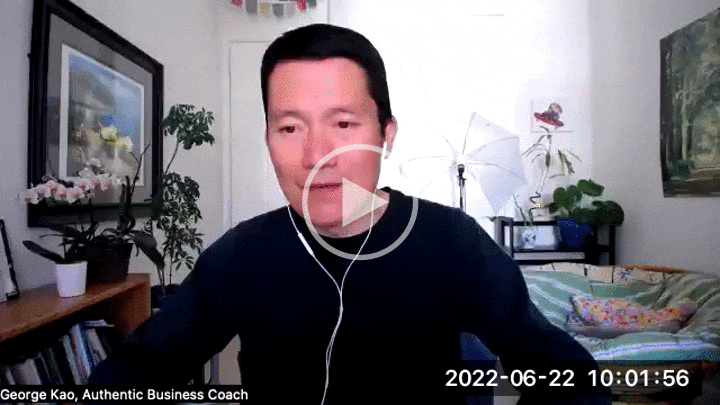 Book Cover Fiverr designers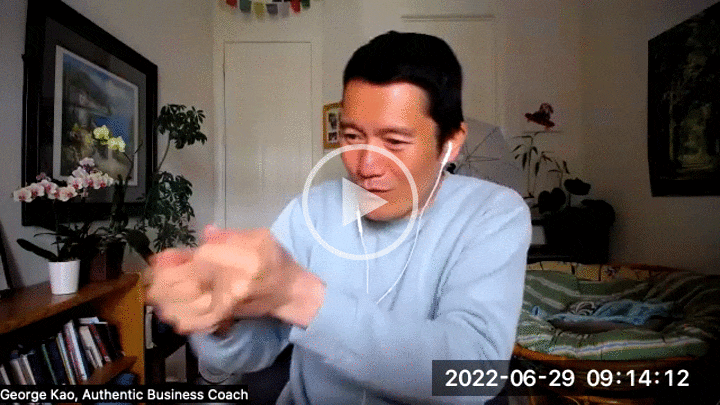 What does your book cover designer need from you?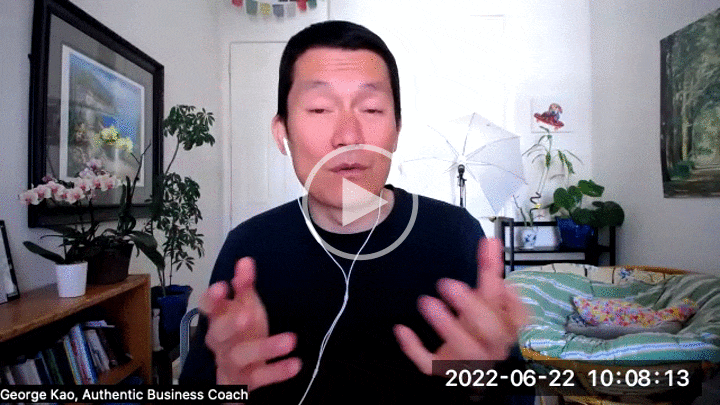 Does book cover need to match your brand colors?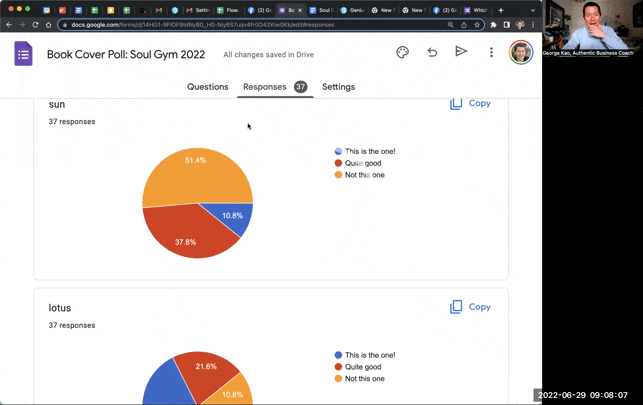 Poll your audience re: designs, via google form (randomized questions / shuffled order)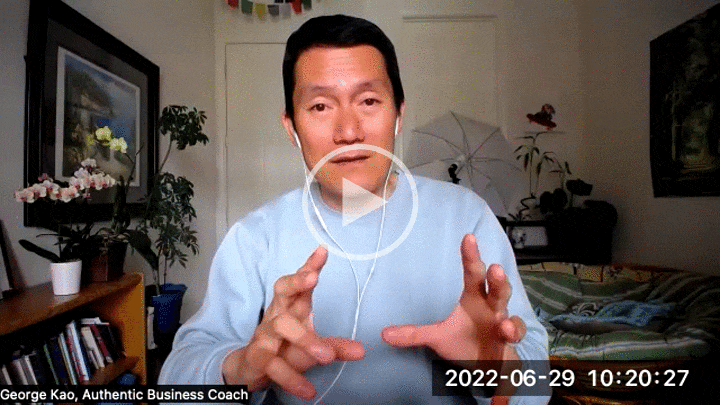 Upgrade your book cover design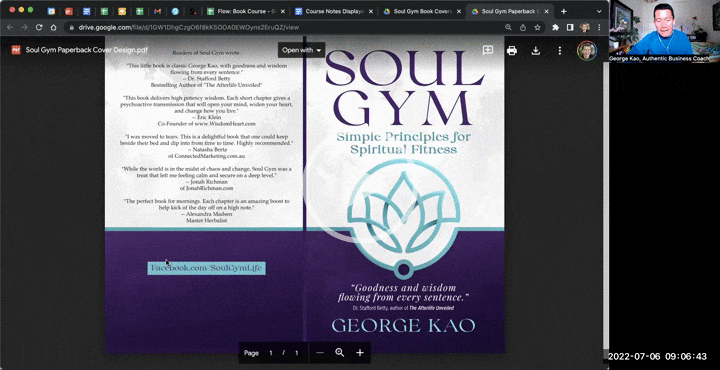 After eBook Cover is done, *then* create the Paperback Cover Design
Book Back Cover Design tips
Your Edited Book Draft 👏🏽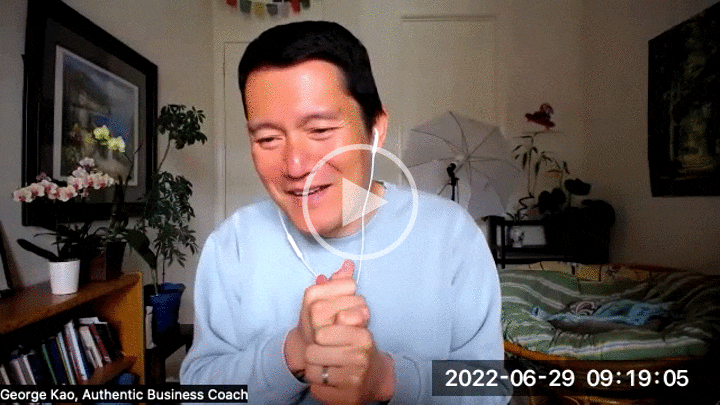 Which edits to accept vs reject? and f* chicago manual of style 😆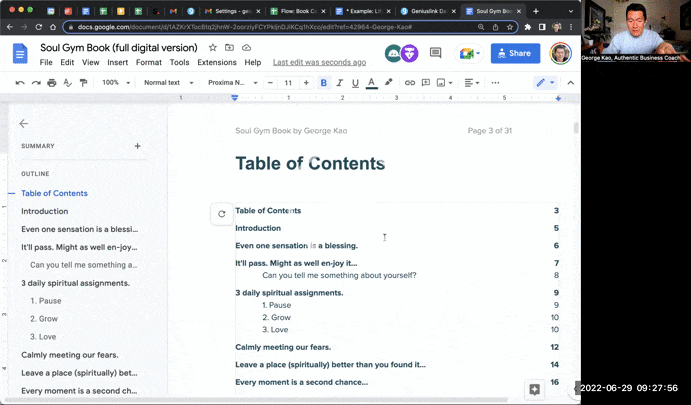 Confirming the edits, and putting it all into one google doc! 🌟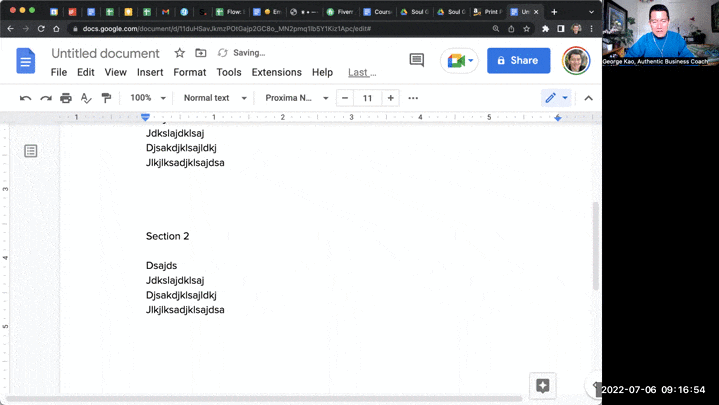 Creating a Table of Contents for your book using google doc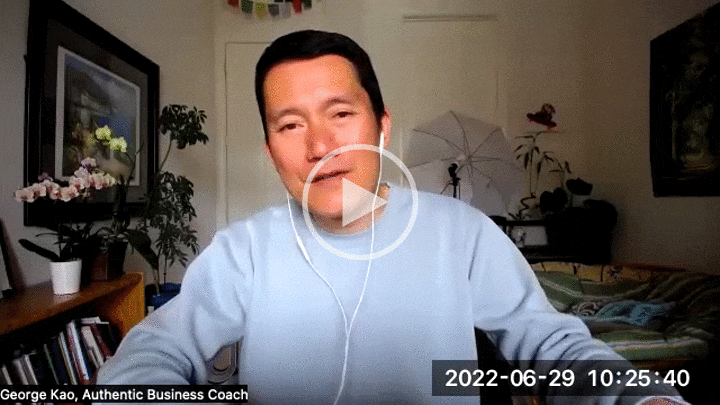 Copyright page -- anything important to note?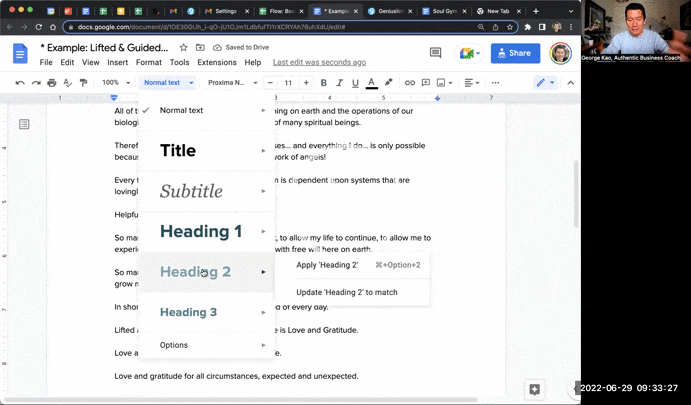 Formatting headers and subheaders in google doc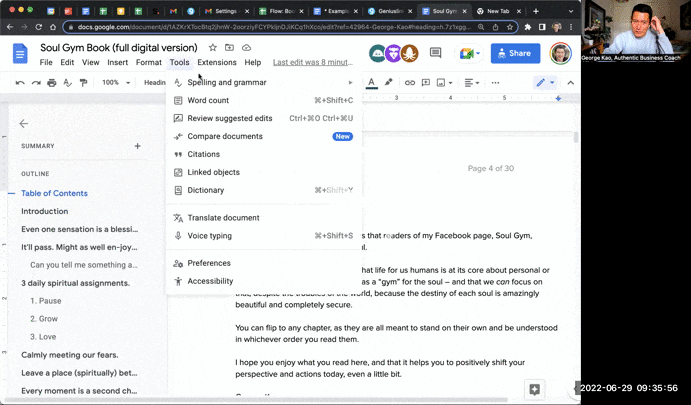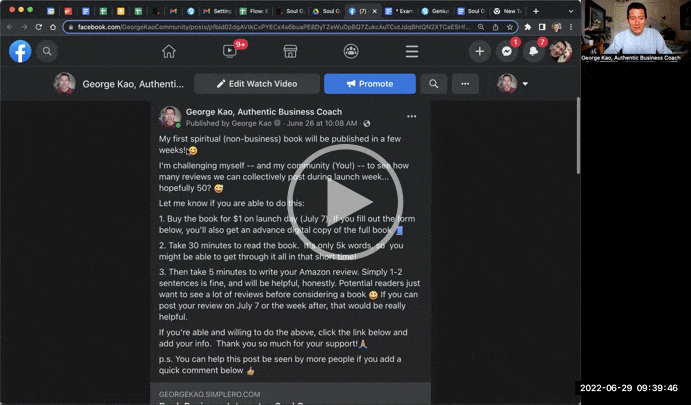 Send your digital book to reviewers 🤩
Book Interior Design / Formatting for Kindle & Paperback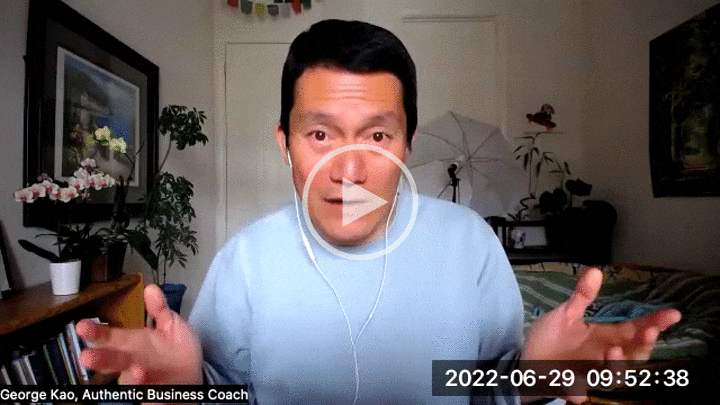 What is book "interior design"?
Send book to Fiverr for layout / formatting aka "interior design"
Uploading your (Kindle) book to Amazon!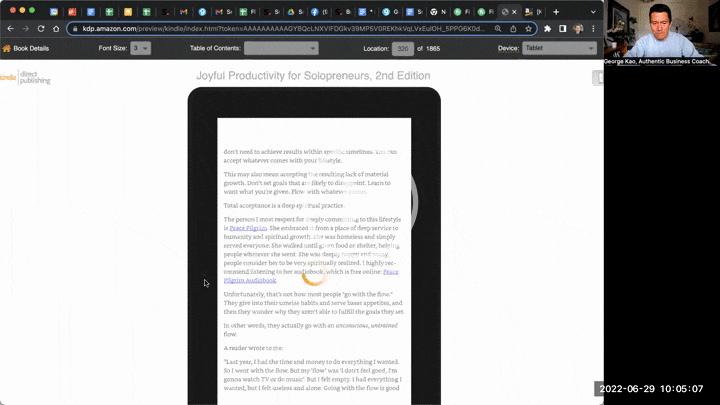 KDP intro and previewing your book manuscript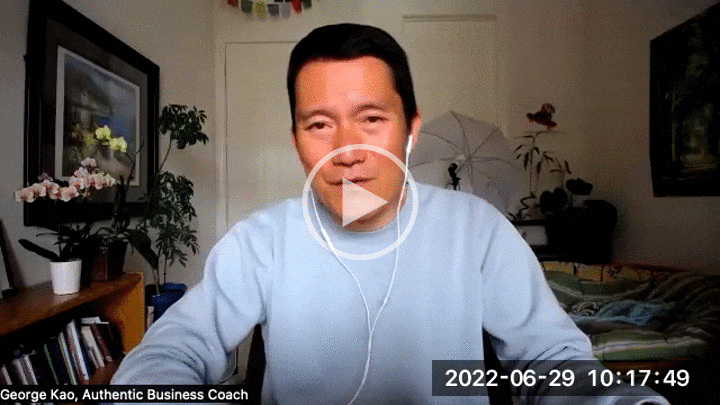 Typos can just be corrected & reuploaded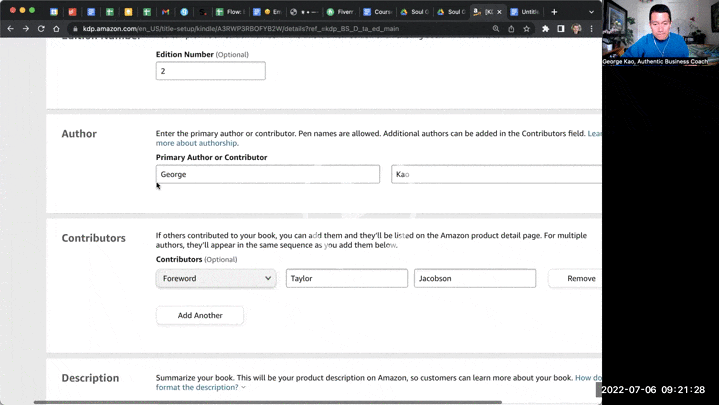 KDP Details -- Title, Series, Edition, Author, Contributors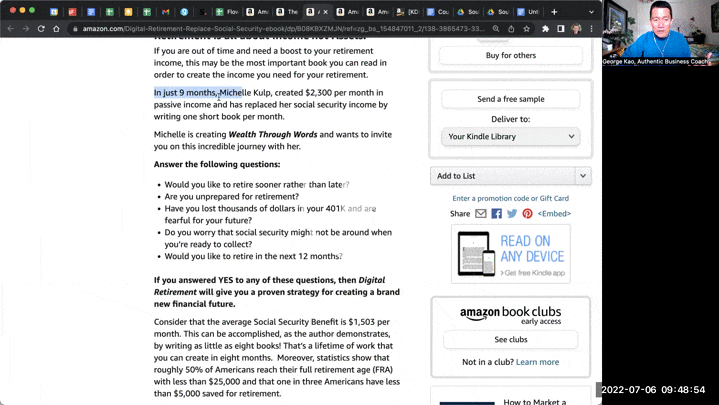 KDP Book "Description" field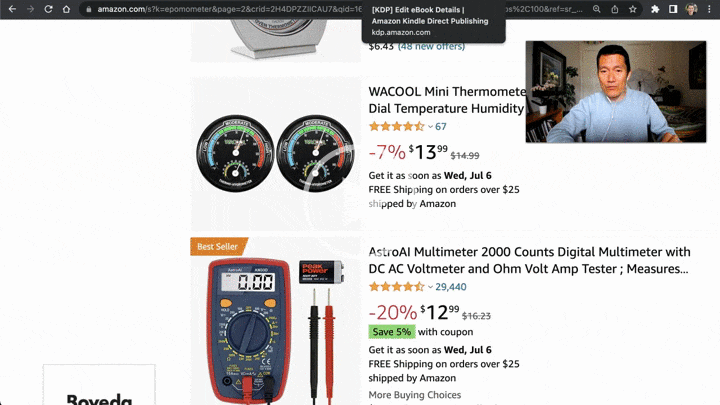 Why I don't worry about KDP keywords...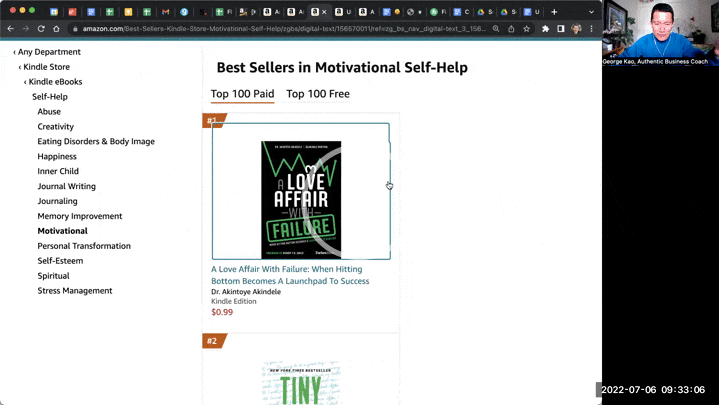 Book Categories (and the sham of Amazon Bestseller Status)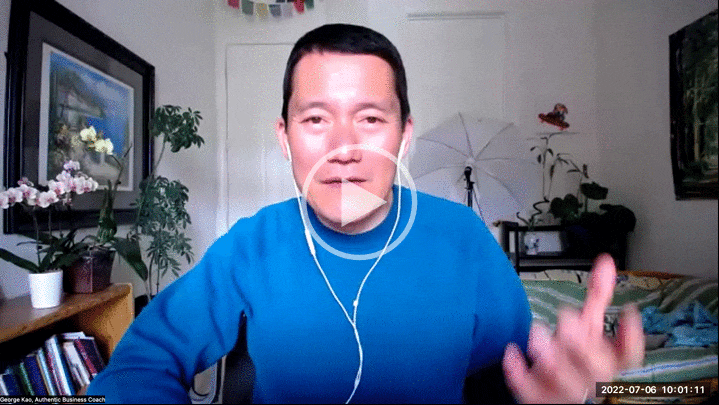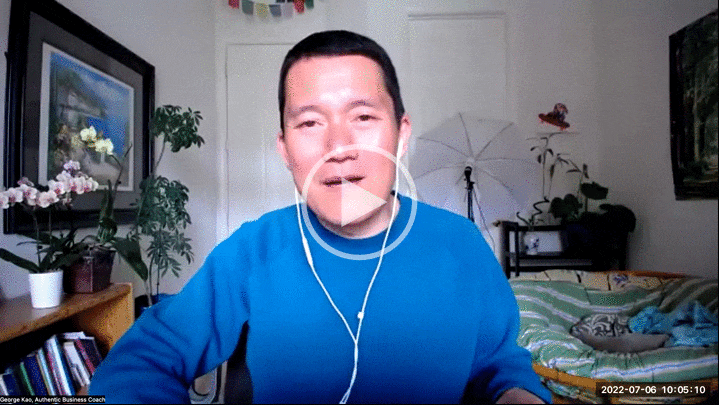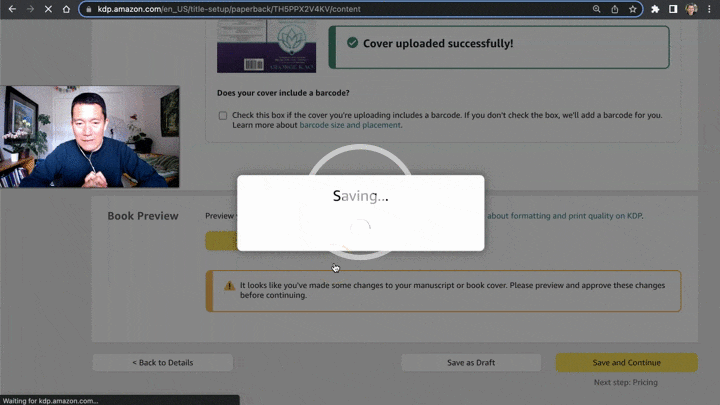 Launch previewer and approve before you can go to final step...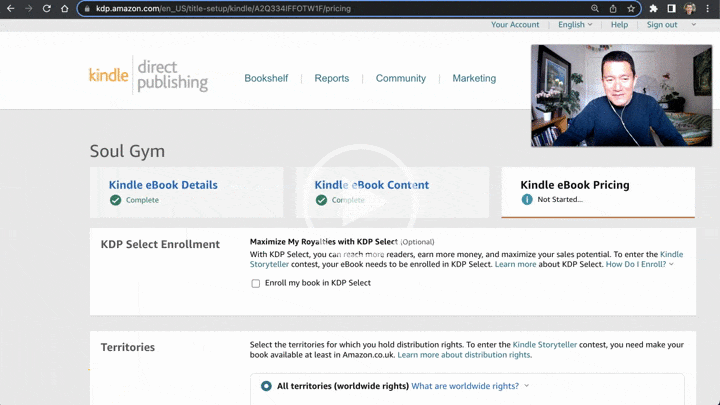 Paperback territories, "primary marketplace", pricing, royalties, and publishing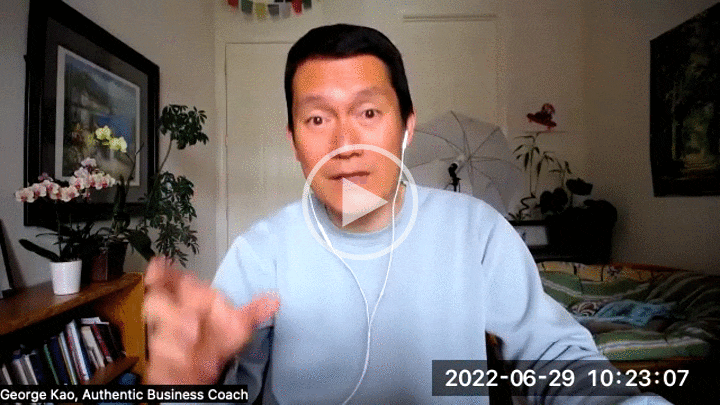 Be sure to check in and remind your reviewers several times!
Easily creating a Paperback with Amazon KDP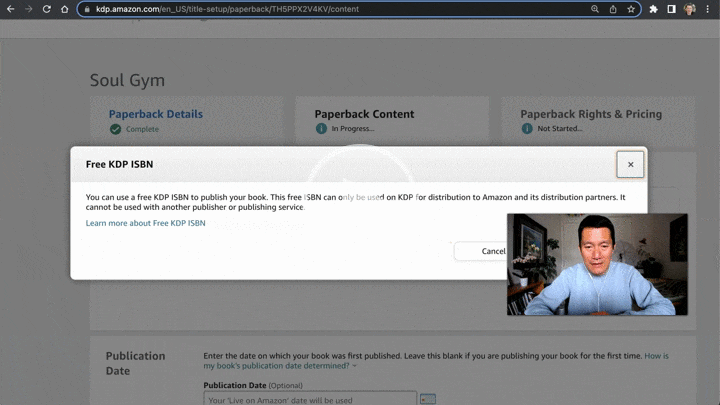 Get a free ISBN from KDP Amazon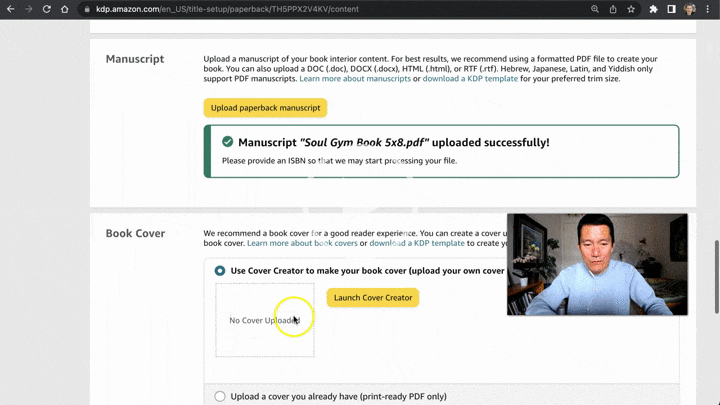 Uploading your Paperback Manuscript to KDP + Trim Size, Bleed, and Finish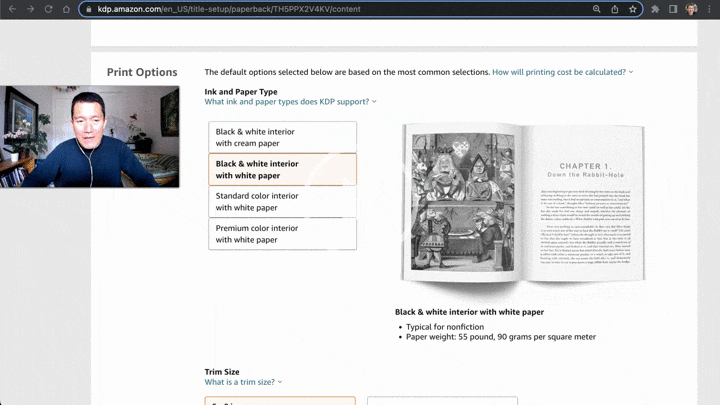 White or Cream Paper? (Probably cream)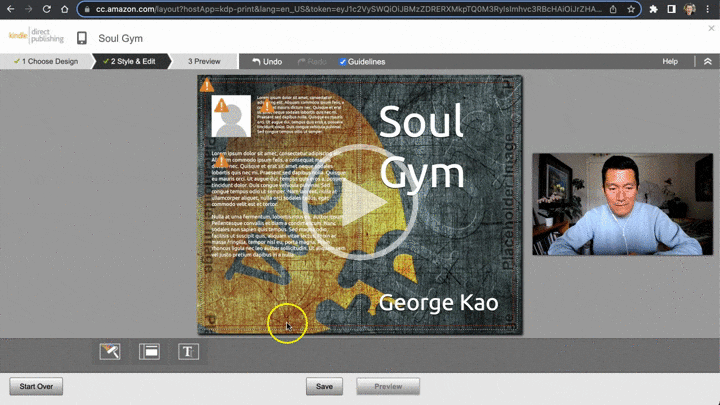 Create a quick temporary paperback cover so you can preview the book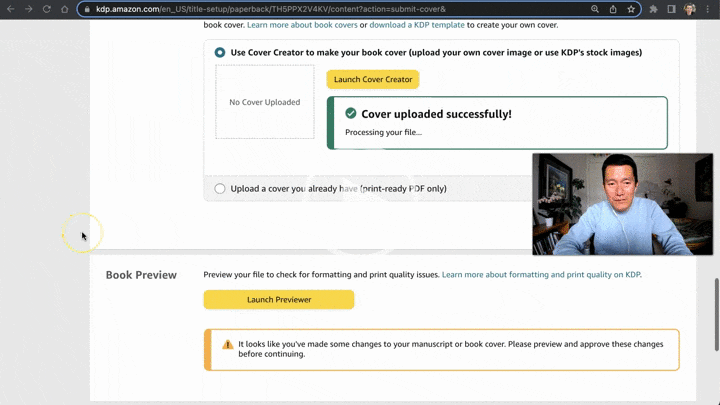 Previewing your paperback text in the KDP previewer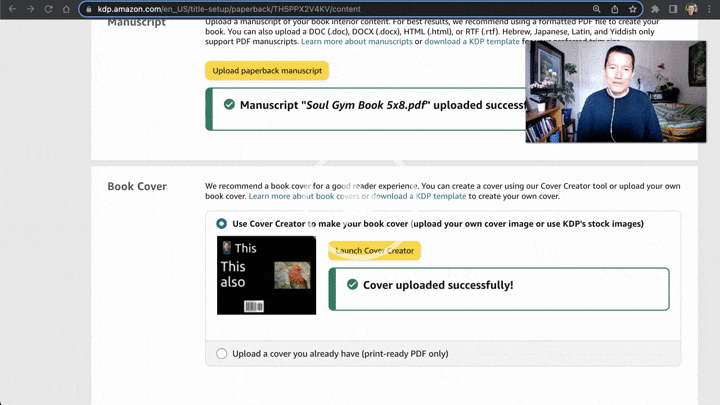 Uploading the real Paperback Cover Design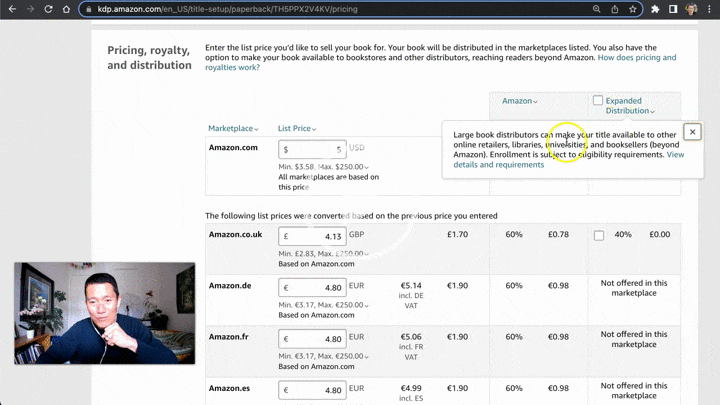 Paperback territories, "primary marketplace", pricing, royalties, and publishing
Paperback/hardback printing options other than Amazon
Progress Checkpoint 3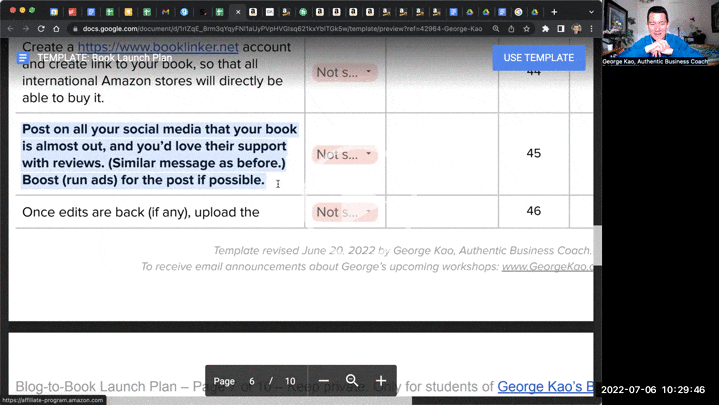 Overview of Blog-to-Book Process
Recording Your Audiobook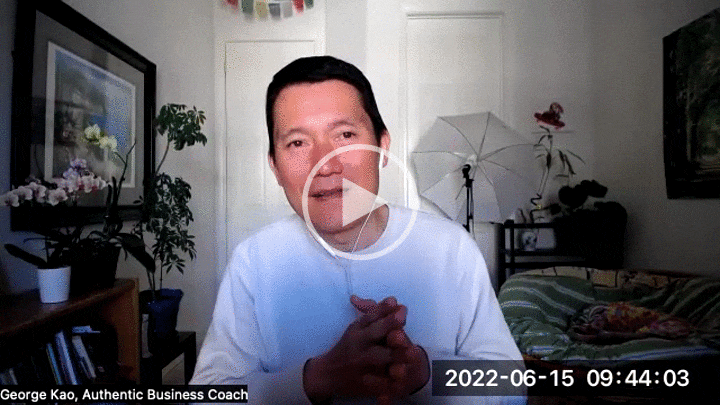 Tips for recording your Audiobook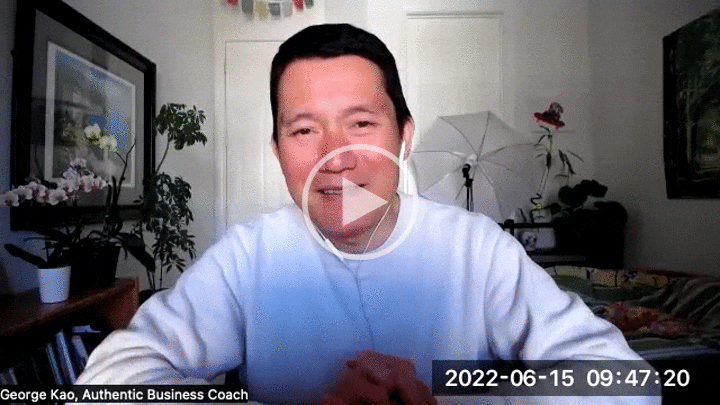 If you have an accent, should you record your own audiobook?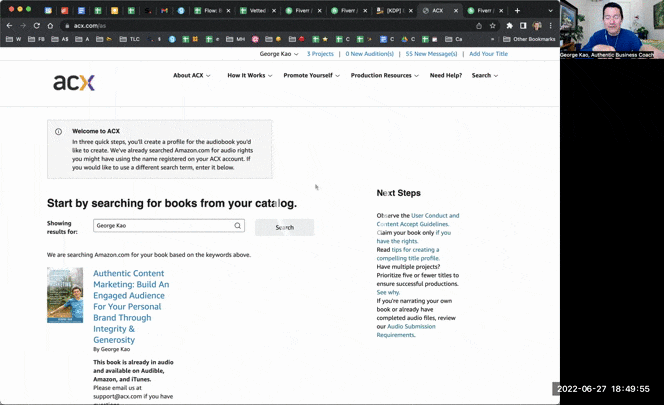 Audible / ACX -- creating your title and uploading the audio files (after sound mastering)
Congrats on Publishing Your Book! 👏🏽🤩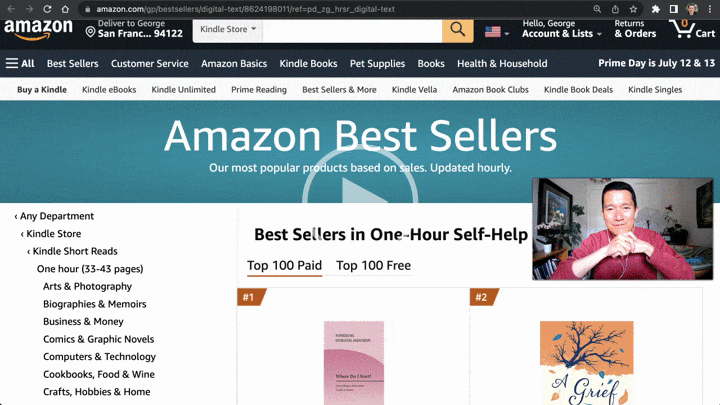 Secret of becoming #1 Amazon Bestseller...
BookLinker: one link that auto directs people to their correct Amazon website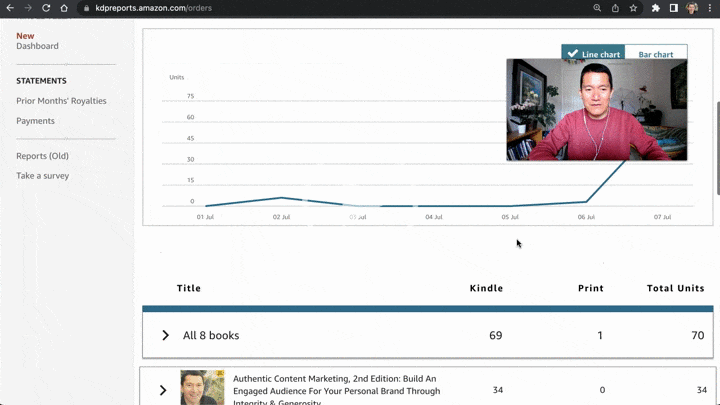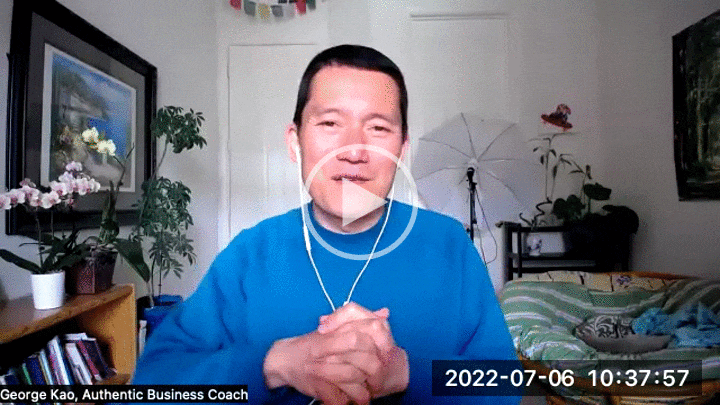 Thank you for taking the course! I look forward to your updates 😊
Feedback about this course 🙏🏼