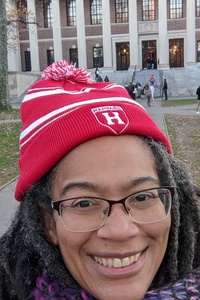 About Toni
I'd like to help women of color decolonize their diets as a means of preventing or reversing type 2 diabetes, which would also improve overall health and increase energy.  ... When it comes to diet, I think that eating mostly a whole foods plant-based diet is best.    I think that West Africa is an overlooked "blue zone" that offers healing foods.
Eventually, I would like to lead others on an actual journey of lamentation, healing, and celebration in West Africa.  I want to help them explore modalities of healing ranging from food to art to community.
I am an attorney and mom to five children.  We homeschool and live in Ohio.  I love books, good food, and spending time in nature.  I like exploring the intersection of theology, justice, and race.
I'm new to entrepreneurship and want to explore my gifts and how to best help others, while making money to help pay for my kids education and extracurricular endeavors.