Course Summary
🖌 Offer Revision Workshop
Welcome! Take the onboarding steps...
Course Platform Orientation
Bonus Q&A Webinars -- Live Support Calls
General Questions (if you don't know where else to ask)
Start of Course Assessment: Offer Revision Workshop
What is an Offer anyway?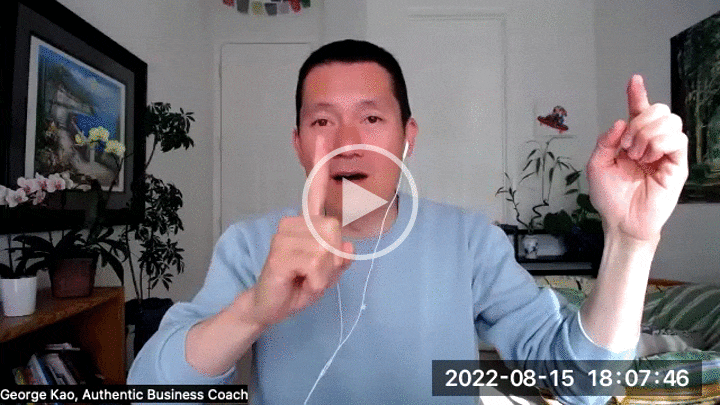 What an offer is -- and is not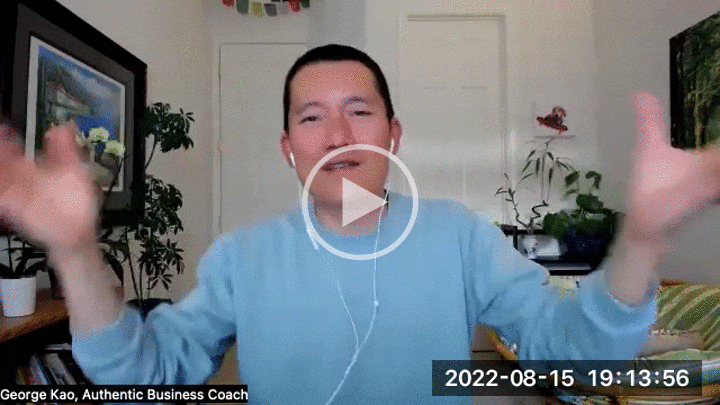 ...but won't multiple offers confuse your audience?
Why it's important to optimize your offer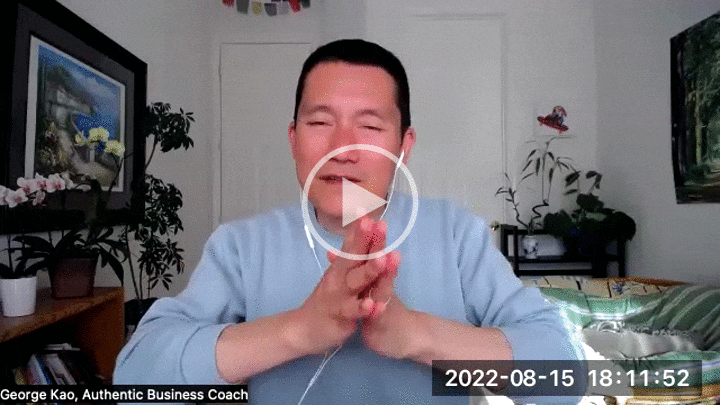 Alignment, Reach and Trust -- and what we're working on here... (The ART Framework)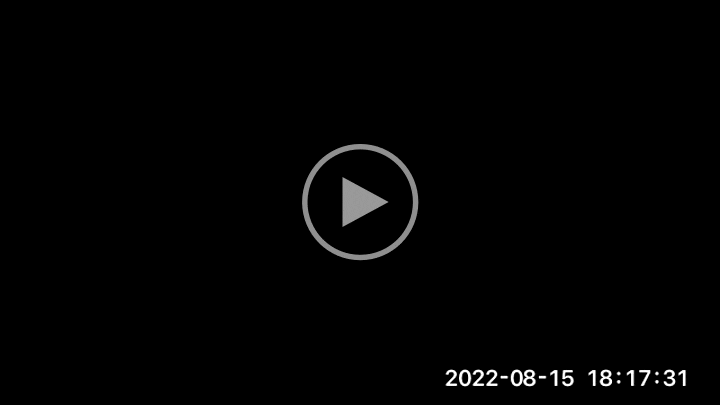 If you don't sell quick fixes... you need a warmer audience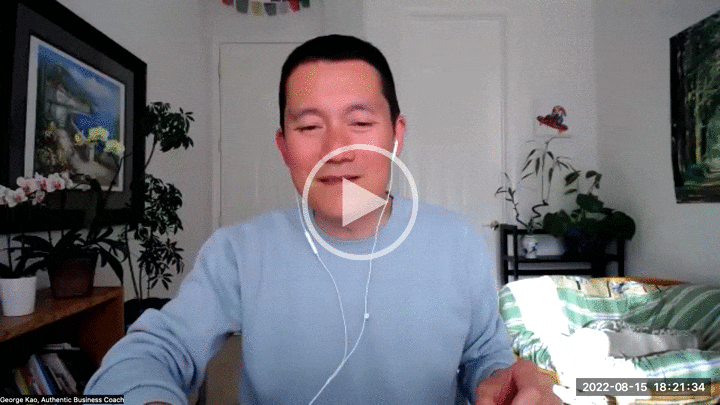 Grounded Alignment is Function before Form...
FIRST -- Choose Your Offer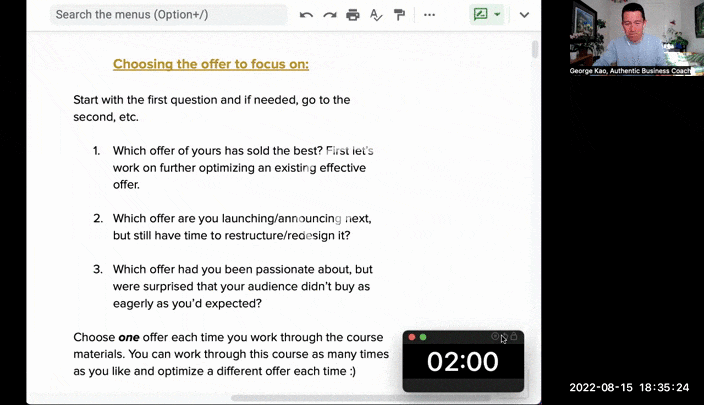 EXERCISE -- Choose the offer you'll work on in this course
Defining the Ideal Client (for this Offer)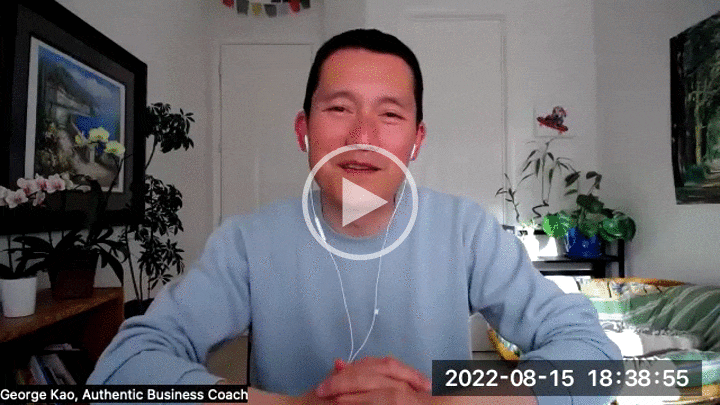 Why we need to define an ideal client for an offer to be optimized...
You can also analyze *existing* clients instead of coming up with a new ideal client..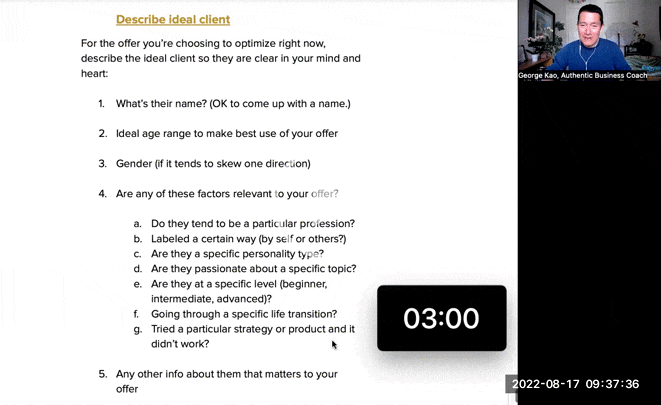 EXERCISE: Define the ideal client for *this* offer...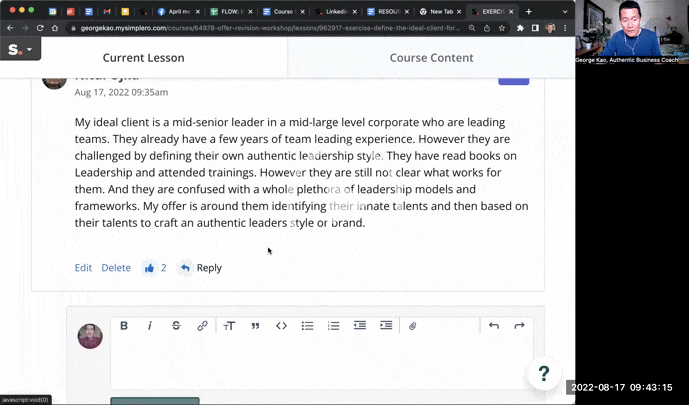 EXERCISE: reply to 2 comments that describe the type of person you know well...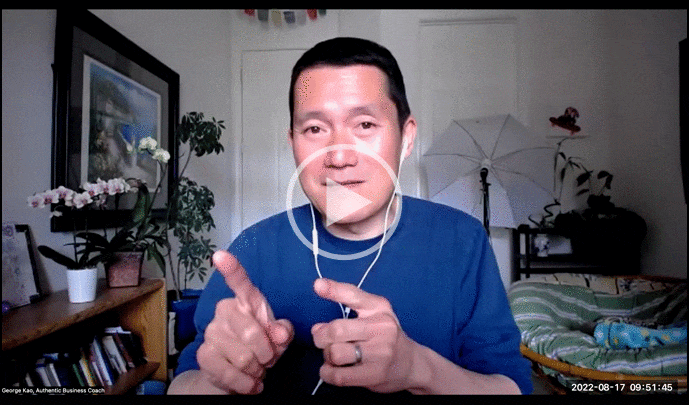 EXERCISE: ask your network if they know people like this...
Q&A re: Ideal Clients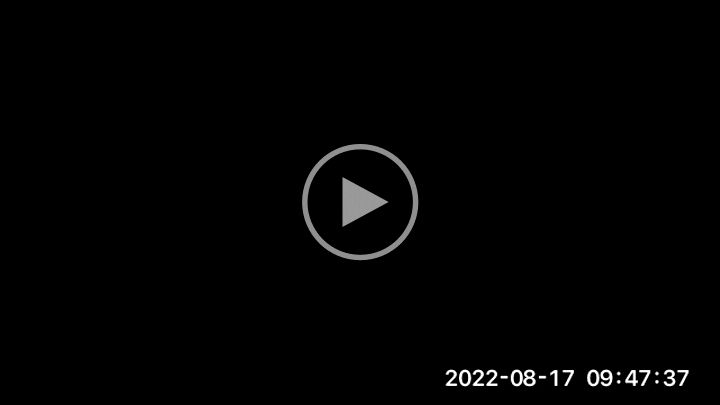 How wide can I put the age range of my ideal client?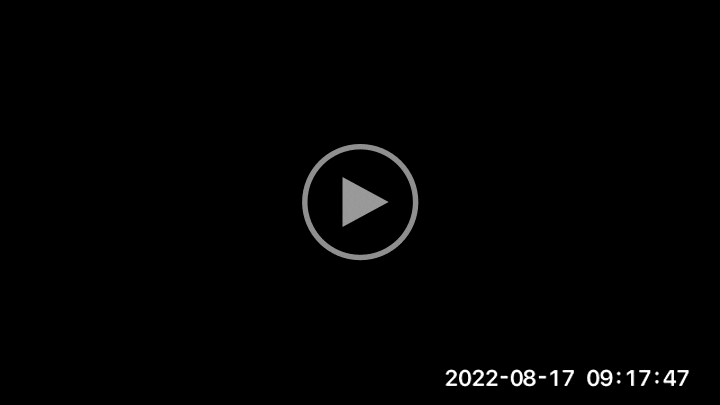 Should we turn away non-ideal clients? 🤔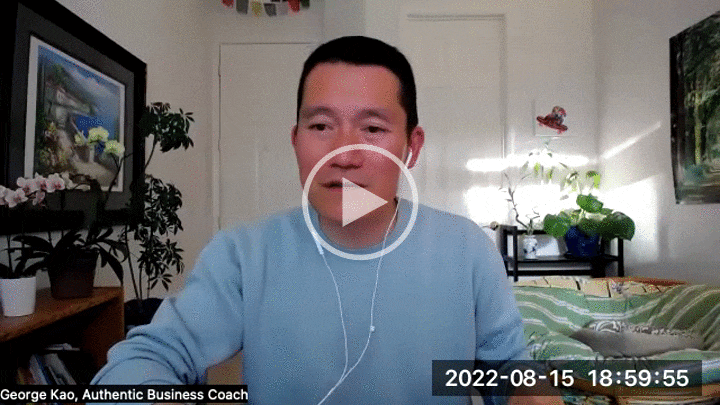 What if you want to attract a different type of client than you've been working with?
Issue Clarification (so the offer presents what the client cares most about!)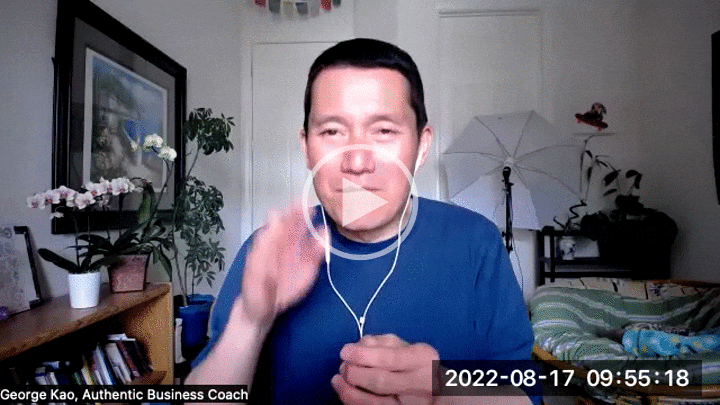 Intro to Issue Clarification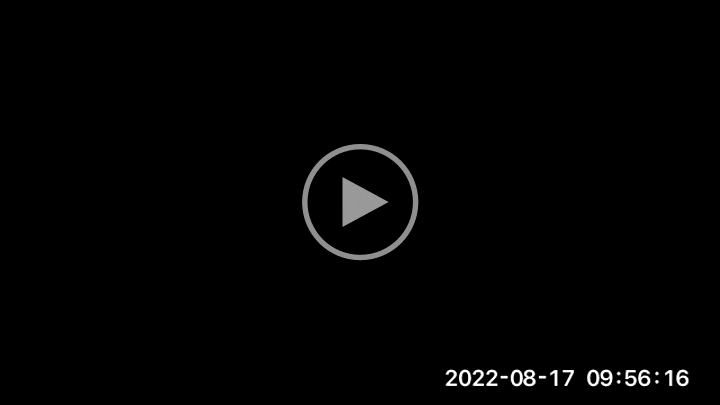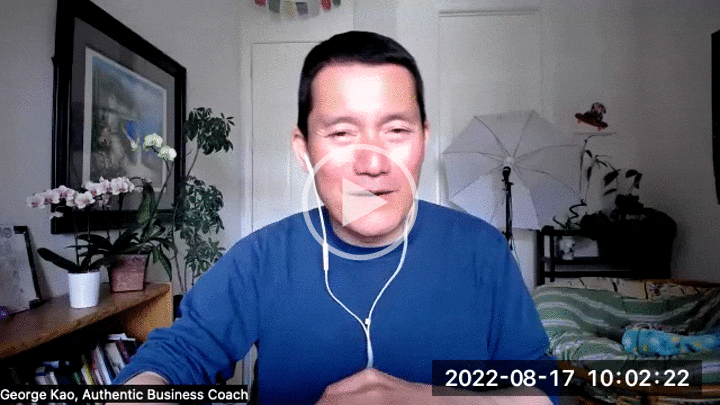 Pain points? It's about *how* we name it...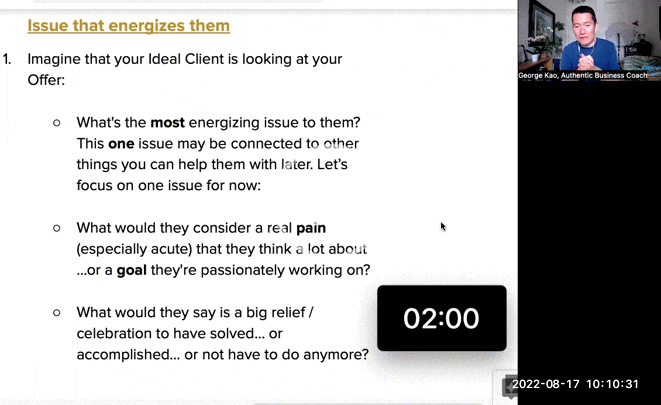 EXERCISE: What's the most energizing issue? 👏🏽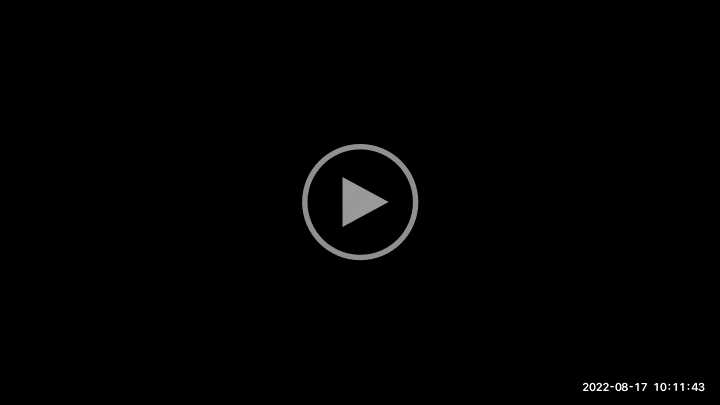 EXERCISE: what's different about your ideal client?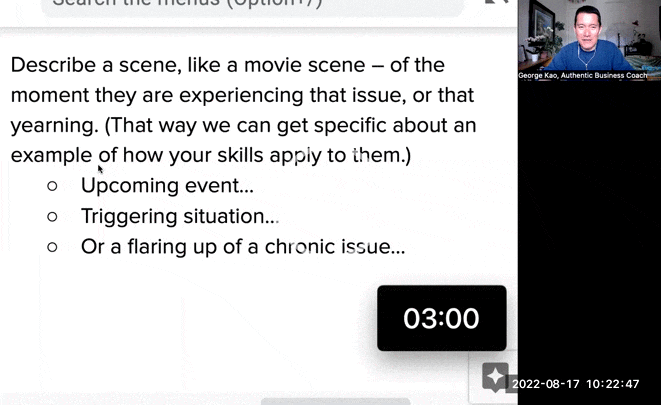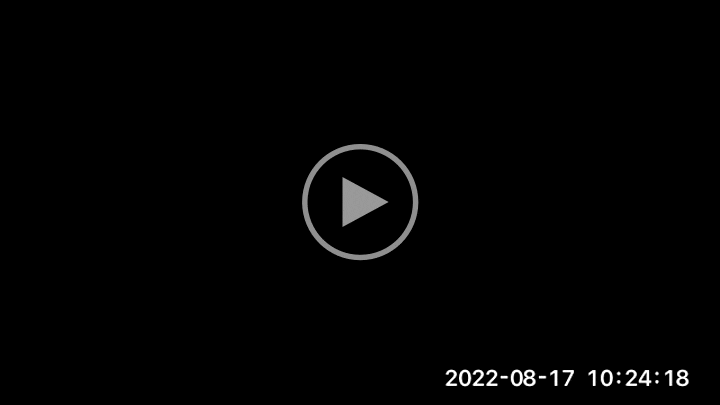 EXERCISE: mutual support -- issue clarification
The Context of Your Offer (within your Business Model)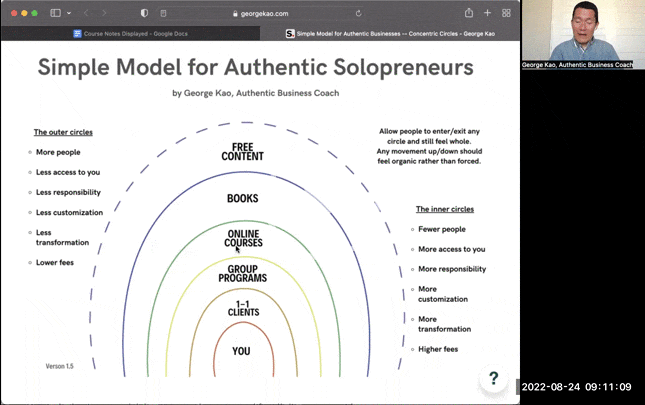 The Business Model Diagram (Concentric Circles)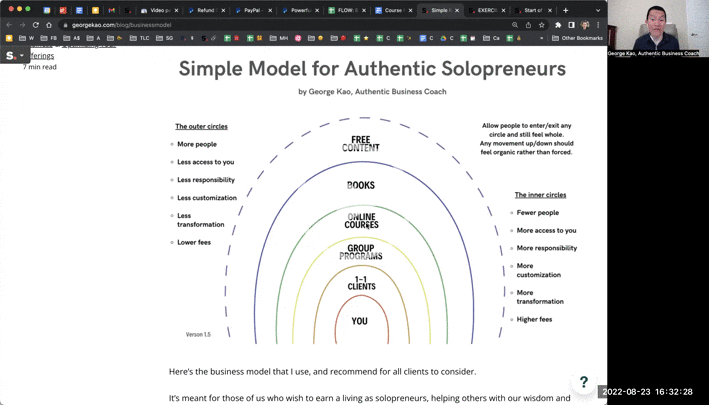 Delivery model constrains the content for appropriate level of understanding...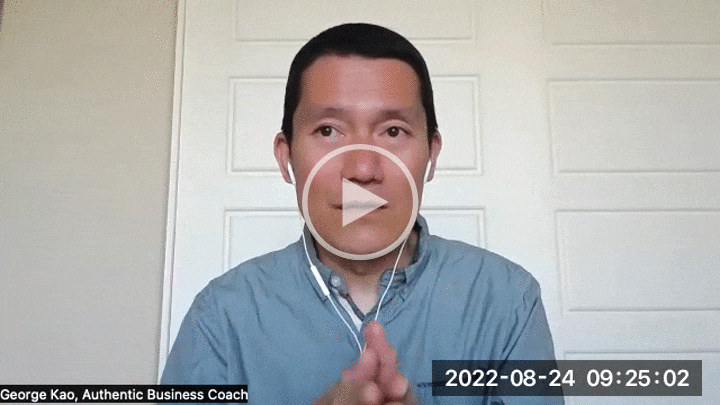 Intro to "First Step" and "First Class" Offers...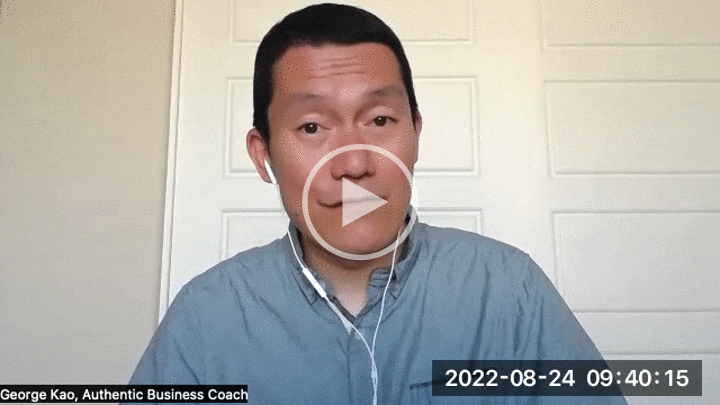 EXERCISE: Your First Step Offer?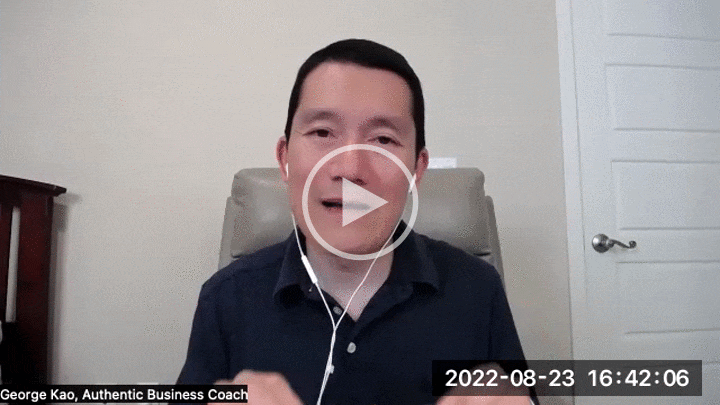 First Step Offer -- can it be free?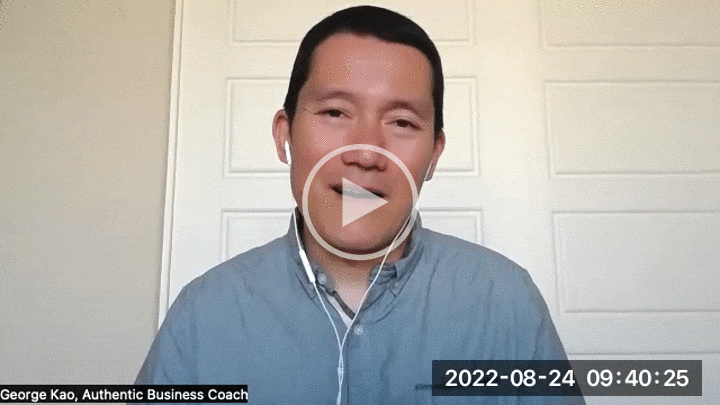 Complimentary Session -- dynamics with potential client...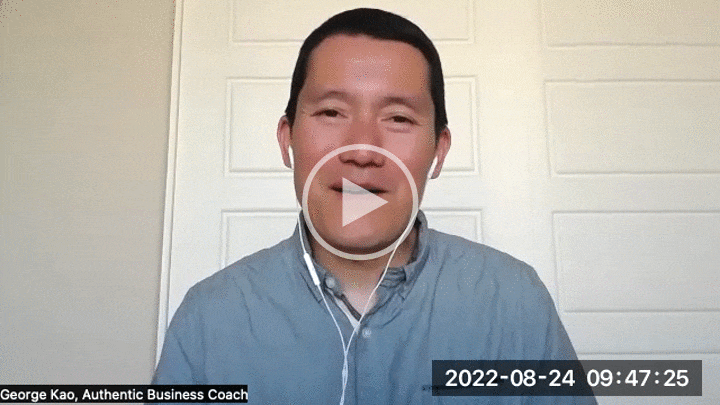 EXERCISE: Your First Class Offer?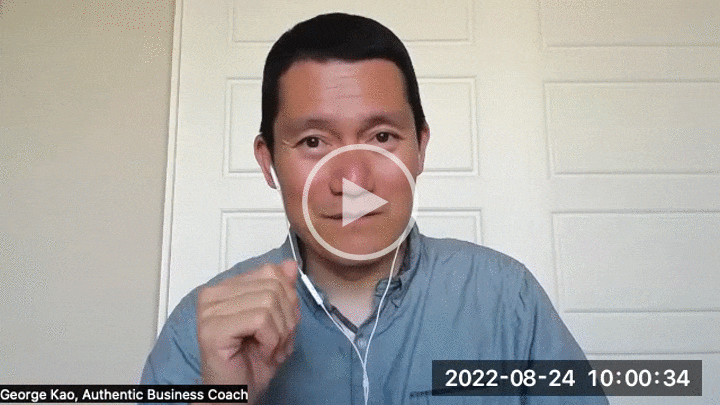 EXERCISE: Choose the offer you'll optimize...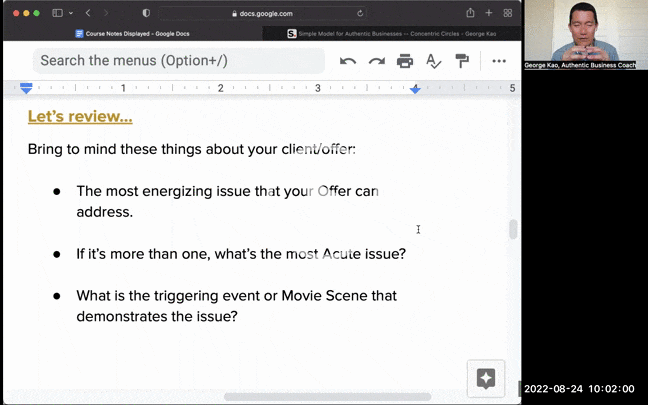 EXERCISE: Review the energizing issue for your offer...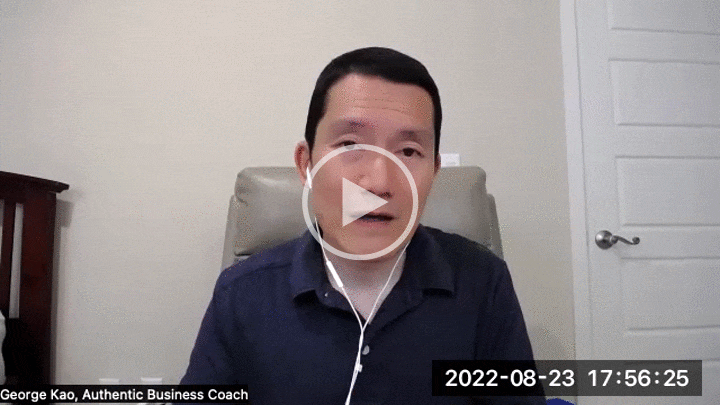 (optional) -- Coaching offers: Create packages or make it a subscription?
The "After" Scene -- Clarifying the Transformation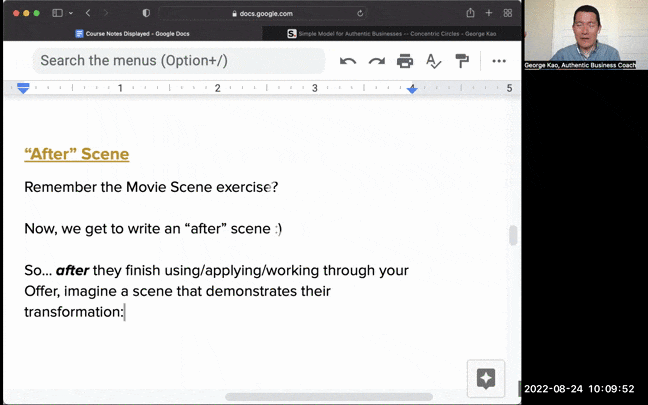 EXERCISE: The "After" scene of your offer...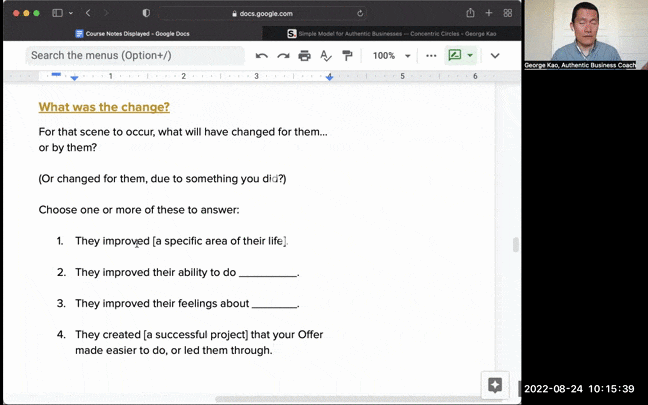 EXERCISE: What specific changes took place?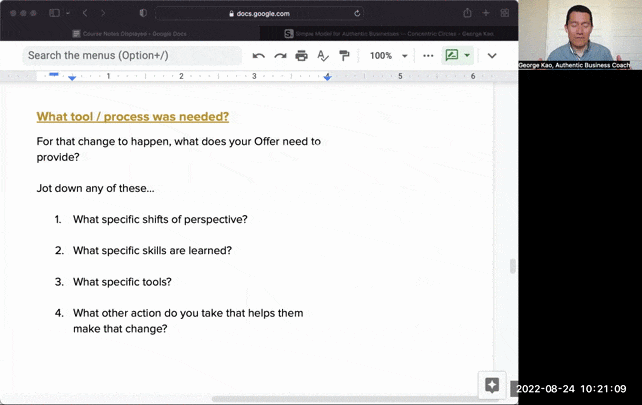 EXERCISE: What tools or processes were needed?
Measuring the Client's Transformation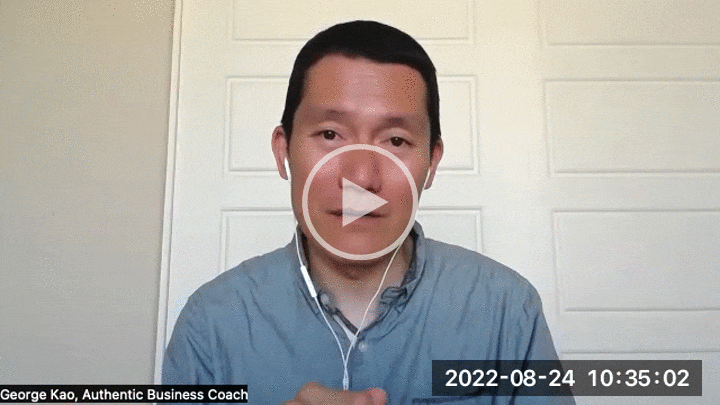 Intro to measuring client transformation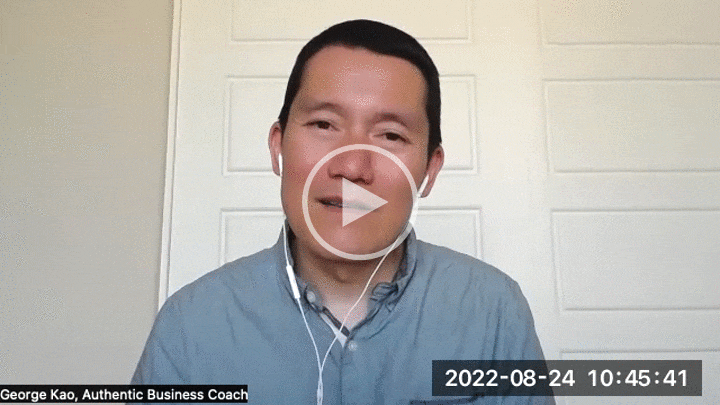 Finding a friendlier relationship to numbers and measurement...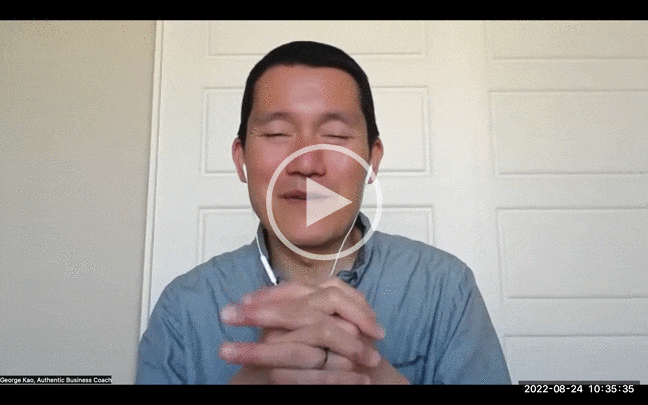 EXERCISE: Measurement (with Examples)
Free Offers for Your Fellow Students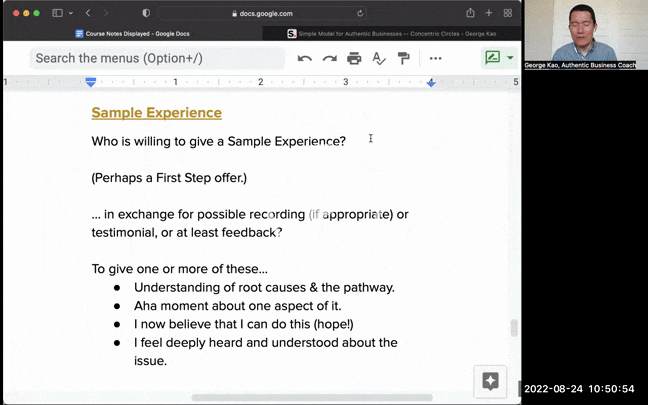 Poll Your Audience
EXERCISE: Poll audience re: Issues or Titles
Polling on sensitive topics
Simple Explanation of Your Offer's Process
Simple Explanation Examples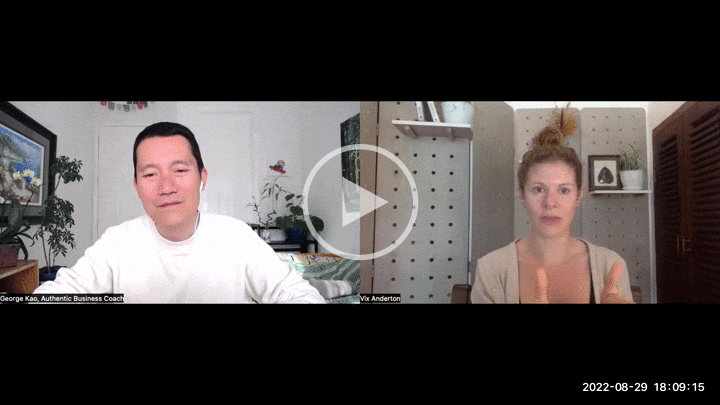 Example: Blog-to-Book Course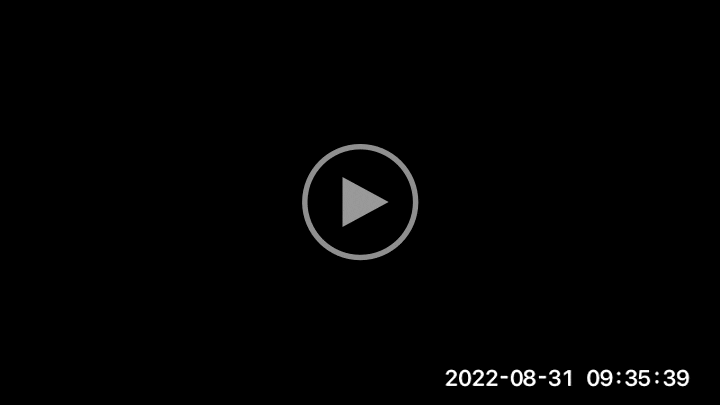 EXERCISE: Simple Explanation
Authentic Limiters
Why are authentic limiters important?
Make evergreen courses sell better by relaunching them...
If using a free webinar/event as an authentic limiter...
EXERCISE: What limiters will you use?
Learning from Nichemates
EXERCISE: Your offer -- and what others here have bought...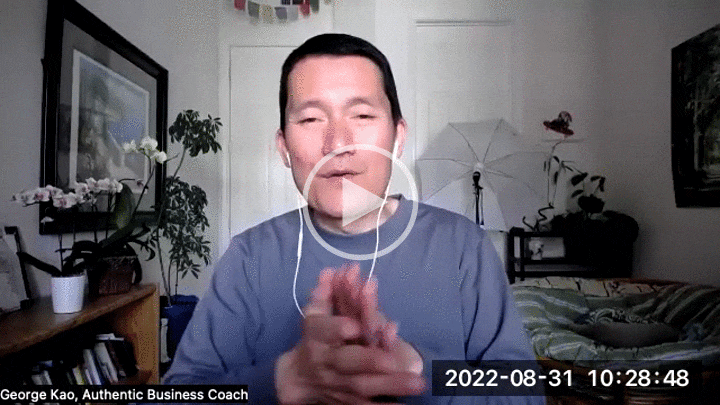 EXERCISE: Ask your audience if they have bought something similar....
Nichemate website learning....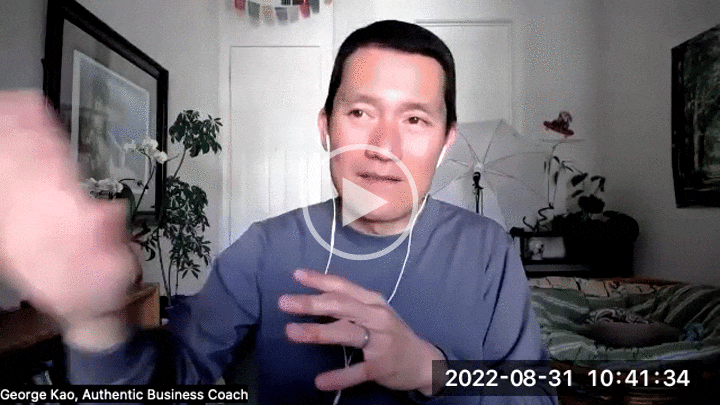 Nichemate social media learning....
Putting it all together 👏🏽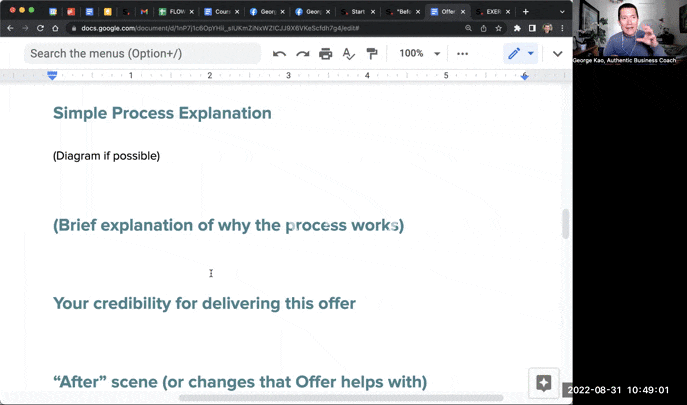 EXERCISE: The Offer Structure Template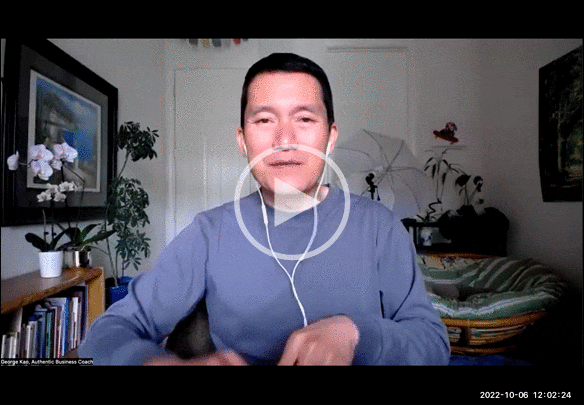 🤗 Your Mindset and Emotional Posture as you write your sales page
How much context will you assume of your sales page visitor?
Should you mention your other levels of Offers on the sales page?
Introductory paragraphs for your sales page
More about what they're going to get
Write in the transitions (if needed)
(Optional) Do you need any graphical elements for your sales page?
Reminder: nichemate learning
Feedback is essential 👩‍👧
Share your celebration and learnings!
"After" Course Assessment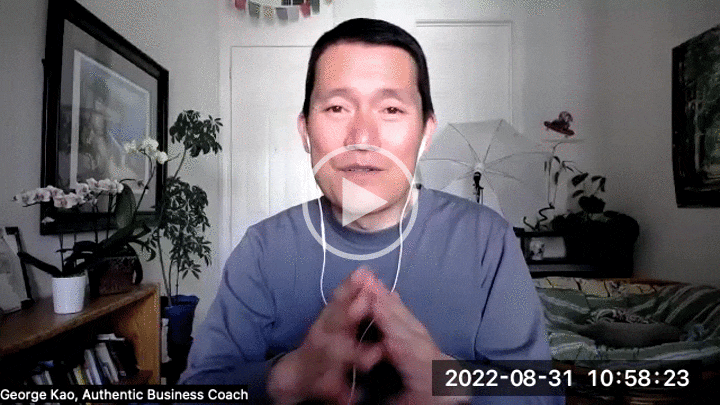 Course Completion Assessment: Offer Revision Workshop
What did you think of the course? 🙏🏼
If your offer doesn't launch well, what to do?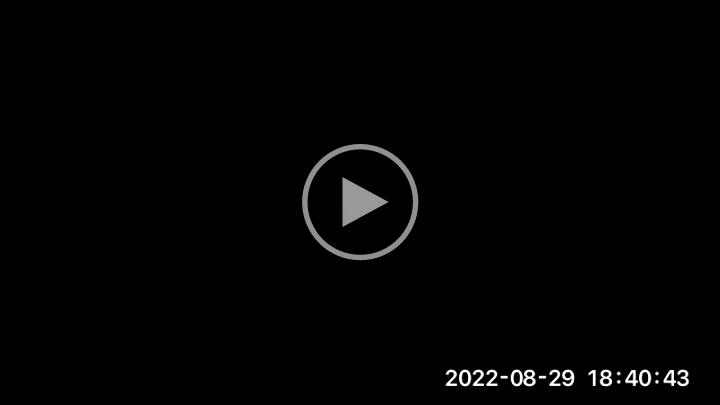 If you have to cancel an offer (due to low sales) -- authentic content is your opportunity...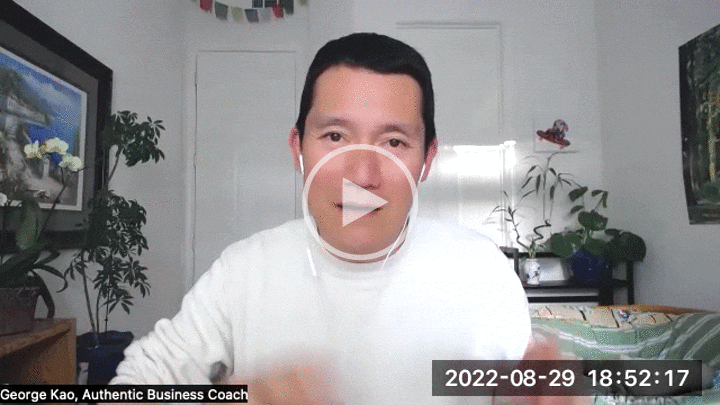 You have the privilege of asking your audience's feedback about why your marketing didn't work...
Go through this course again to improve your Offer