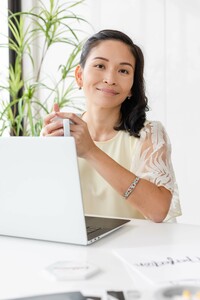 About Catherine
Welcome to my profile.
WHO AM I?

I am Catherine, ICF Certified Coach (ACC), Co-Active Coach (CPCC) & Mental Fitness Coach (CPQC), former Business Development Exec (17 years corporate experience in Tech), First Generation professional and Third Culture Mama.
Also: a runner, meditation practitioner, painter, dancing mermaid, and recovering perfectionist :)
I was born in Indonesia and have previously studied and worked in The Netherlands, Germany, USA, Singapore and France.
WHAT IS MY PASSION AND MY GOAL HERE?

I've started my coaching business out of my love and passion for people. I started out in 2020 after 17yrs of career in Technology.
This year I am really looking to grow my true fans, by leaning into deepening self-expression work (getting out there more, being more consistent in creating content, expressing more etc).

I offer Coaching (1:1 and starting on Group recently), as well as Training and Speaking.
My ideal client is Mindful Leaders (those care a lot about 3P in life: Purpose People Planet) who currently lost their spark and want a different way to live/lead and move forward with more aliveness, joy and ease.

I help them to increase their inner capacity through Mental Fitness journey. So they can create the change they want to see in themselves, and amplify their impact.

I am especially passionate about empowering those feeling under-represented at work, rising to the top and playing bigger in their lives.
WHY THIS COURSE?
In joining this course, I look for guidance from George on joyful productivity so I can scale my business to the next level. In addition to that I am interested to find: study buddy (content creation), social media cheerleaders, meaningful connections.
I'm very happy to be here and looking forward to meet you and get to know you better soon!
LinkedIN: https://www.linkedin.com/in/catherine-le-liboux/
IG: cleliboux
FB: https://www.facebook.com/ac.warouw
Website: https://www.stepping-up.co